6 effective traditional Chinese medicines for COVID-19
Traditional Chinese medicine has been playing a critical role in the prevention, treatment and rehabilitation of the COVID-19.
Official figures showed that, up to Sunday, 91.6 percent of the patients in Hubei province, the epicenter of the outbreak, and 92.4 percent of the patients nationwide have been treated with TCM.
"Three formulas and three medicines" have been proven to be effective in curbing the virus, according to the State Administration of Traditional Chinese Medicine. Let's have a look at them.
1. Jinhua Qinggan Granule (金花清感颗粒)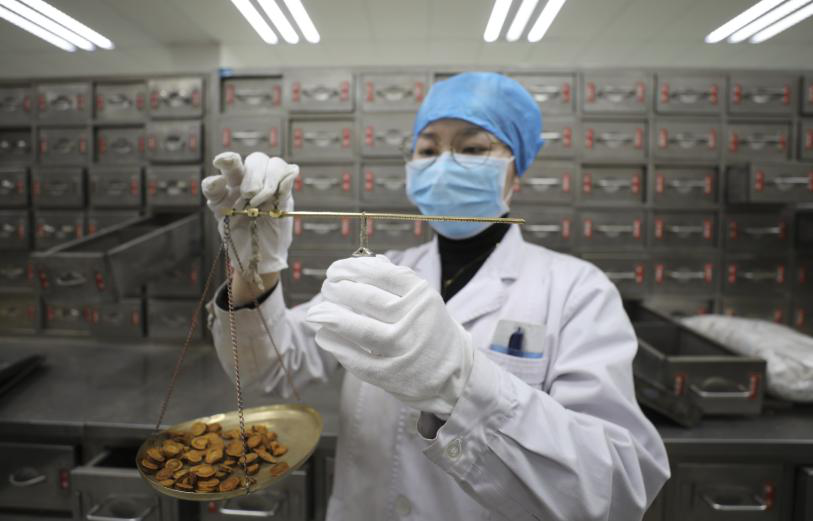 The Jinhua Qinggan Granule was developed during the 2009 H1N1 influenza pandemic. It consists of 12 herbal components including honeysuckle, mint and licorice and can clear heat and detoxify lungs.
It has a curative effect in treating mild and moderate patients and can also improve the recovery rate of lymphocytes and white blood cells, as well as reduce the rate of patients turning more severe.
In early February, 102 mild patients in Wuhan took Jinhua Qinggan Granule in their treatment. Only 11.8 percent worsened, and it took only one and a half days for patients to reduce fever.
A comparative experiment showed patients who took Jinhua Qinggan Granule tested negative for coronavirus two and a half days earlier than a group that did not take the granule. The group treated with the granule also took eight days to show improvement, while the other group took 10.3 days.
Ingredients: jinyinhua (金银花,or honeysuckle), zhebeimu (浙贝母, or fritillari), huangqin (黄芩, or baical skullcap root), niubangzi (牛蒡子, arctium lappa), qinghao (青蒿, or sweet wormwood herb ), and so on.
Please feel free to contact us by sending your questions to question@chinadaily.com.cn or commenting on China Daily app. We will ask experts to answer them.