6 effective traditional Chinese medicines for COVID-19
5. HuaShiBaiDu Formula (化湿败毒方)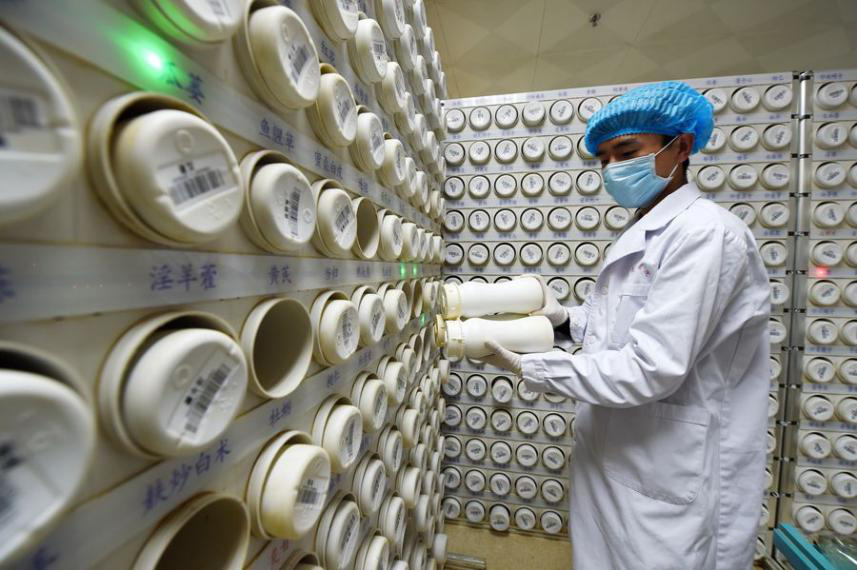 HuaShiBaiDu Formula is a core recipe developed by the national traditional Chinese medicine team from the China Academy of Chinese Medical Sciences. Made up of 14 herbal components, the formula is based on the recommendations of the early national diagnosis and treatment plan as well as the experiences from clinical practice at Wuhan Jinyintan Hospital.
Its main use is to detoxify, remove dampness and heat from the body and relieve cough to achieve an inner body balance. It can be used to treat light, moderate and severe patients.
This prescription has a comprehensive treatment effect in different stages of novel coronavirus pneumonia and can significantly shorten the length of hospital stays and improve clinical symptoms and lung conditions, as shown by CT scans and other examinations. Studies on guinea pigs found the formula can reduce lung viral load by 30 percent.
Recommended prescription: 6g shengmahuang (生麻黄, or raw ephedra), 9g xingren (杏仁, or almond), 15g shengshigao (生石膏, or gypsum), 3g gancao (甘草, or licorice), 10g huoxiang (藿香, or ageratum) (adding later), 10g houpo (厚朴, or officinal magnolia bark), 15g cangshu (仓术, or rhizoma atractylodis), 10g caoguo (草果, or fructus tsaoko), 9g fabanxia (法半夏, or rhizoma pinellinae praeparata), 15g fuling (茯苓, or poria), 5g shengdahuang (生大黄, or raw rhubarb) (adding later), 10g shenghuangqi (生黄芪, or membranous milkvetch root), 10g tinglizi (葶苈子, or lepidium seed), 10g chishao (赤芍, or red peony root).
Suggested use: 1-2 doses per day, boiled with 100 ml to 200 ml water, two or four times per day, oral or nasal feeding.
Please feel free to contact us by sending your questions to question@chinadaily.com.cn or commenting on China Daily app. We will ask experts to answer them.