6 effective traditional Chinese medicines for COVID-19
4. Lung Cleansing and Detoxifying Decoction (清肺排毒汤)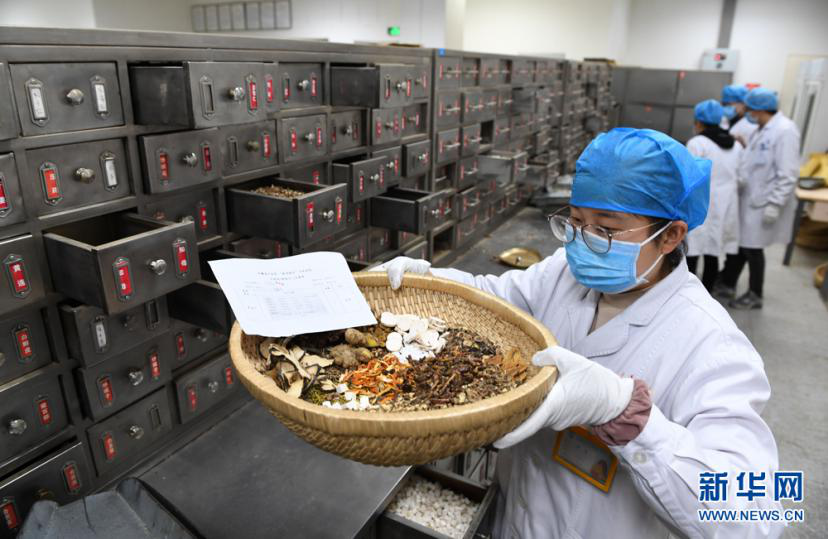 The Lung Cleansing and Detoxifying Decoction is derived from several classic recipes in a traditional Chinese medicine work known in English as Treatise on Cold Damage Diseases (Shang Han Za Bing Lun), which was written by Zhang Zhongjing sometime before 220 AD. It has 21 herbal components and is mainly effective in improving symptoms of fever, cough and fatigue as well as lung condition, as shown by CT scans, in severe patients.
Studies have proved the decoction can regulate multiple cell signaling pathways –as cells communicate with each other by receiving and processing chemical signals in response to environmental changes - to inhibit virus replication and avoid or mitigate cytokine storms, which are an overreaction of cells that damage the immune system.
The decoction targets lungs and can also protect other organs. It can be used as a general recipe for treating mild, moderate, severe and critical patients.
Tong Xiaolin, chief researcher of the Chinese Academy of Chinese Medical Sciences, said 1,261 novel coronavirus patients in 10 provinces took the decoction, with 1,102 recovering and symptoms no longer appearing in 29, a further 71 showing improvement and no cases deteriorating.
There were also 40 severe patients who used the decoction. After taking the medicine, 28 were discharged from hospital and the condition of 10 improved, with their symptoms changing from severe to mild.
Recommended prescription: 9g mahuang (麻黄, or ephedra herb), 6g zhigancao (炙甘草, or radix glycyrrhizaepreparata), 9g xingren (杏仁, or almond), 15-30g shengshigao (生石膏, or gypsum (fried first)),9g guizhi (桂枝, or cassia twig), 9g zexie (泽泻, or Alisma Orientale), 9g zhuling (猪苓, or polyporusumbrellatus), 9g baishu (白术, or largehead atractylodes rhizome), 15g fuling (茯苓, or poria), 16g chaihu (柴胡, or bupleurum chinense), 6g huangqin (黄芩, or baical skullcap root), 9g jiangbanxia (姜半夏, or pinelliaternata processed with ginger), 9g shengjiang (生姜, or green rhizomes), 9g ziwan (紫菀, or aster), 9g donghua (冬花, or flosfarfarae), 9g shegan (射干, or rhizomabelamcanda), 6g xixin (细辛, or manchurian wild ginger), 12g shanyao (山药, or rhizome dioscoreae), 6g zhishi (枳实, or fructus aurantiiimmaturus), 6g chenpi (陈皮, or dried tangerine or orange peel), 9g huoxiang (藿香, or ageratum)
Suggested use: 1 dose per day, boiled with water, twice a day at morning and evening (40 minutes after lunch and meal). Three doses are a course of treatment.
Please feel free to contact us by sending your questions to question@chinadaily.com.cn or commenting on China Daily app. We will ask experts to answer them.