Primary student attempts to catch falling 2-year-old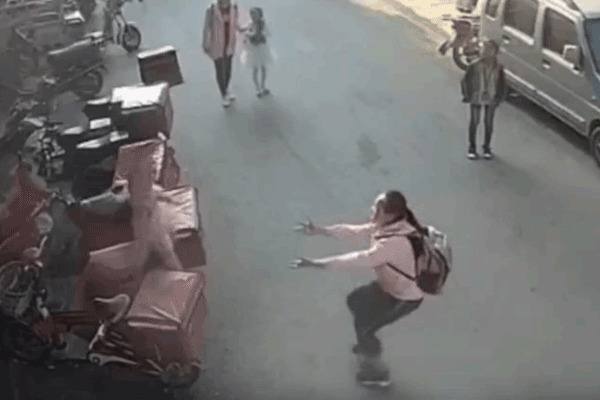 A screen capture shows Chen Keyu, a primary student, trying to catch a boy falling from a residential building.
A video that shows a primary student attempting to catch a 2-year-old boy falling from a residential building circulated online and moved many netizens, who praised the girl as a Samaritan.
During morning rush hour on May 9, a 2-year-old boy was crying next to the window on the third floor of a residential building, about 10 meters above the ground, in Xingyang, central China's Henan province, reported Dahe Daily, a Zhengzhou-based newspaper.
He attracted the attention of passing pedestrians. Among them was 12-year-old Chen Keyu, who was on her way to school. She stopped to watch the toddler.
Without a cover on the window, the boy fell and Chen stretched out her arms and rushed toward him.
"I attempted to catch him without a second thought, but failed to do so," said Chen.
Fortunately, the boy fell on a food delivery box on a motorcycle next to the building and his fall was cushioned before he landed on the ground.
Chen immediately picked the boy up from the ground. The boy was then sent to the hospital and was found to have only minor injuries.
The scene was captured by a surveillance camera in a nearby shop and the video was published online by the shop owner.
"I'm teary-eyed after watching the video. It's so heartwarming to see a 12-year-old girl [try to] catch a falling toddler with her bare hands," said a netizen.
The girl deserves praise for her bravery, but it is very dangerous to catch falling things with your bare hands, said Zhu Mingyang, a police officer.
He said that one should rescue others while protecting himself or herself.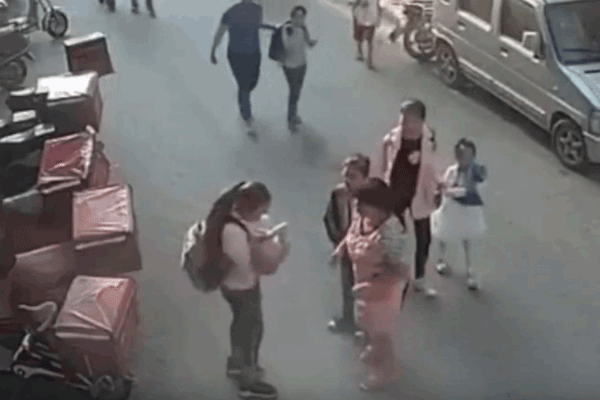 Chen holds the injured boy in her arms.
Chen Keyu. [Photo/Dahe Daily]