Report: China's fight against COVID-19 (full text)
IV. Treatment plans and scientific research
The sudden outbreak of the epidemic put an overwhelming burden on medical resources and led to treatment delays. The unchecked virus triggered a high mortality rate, posing the biggest challenge in the early fight against the epidemic. In line with the instructions of Chinese leaders to prioritize medical treatment, great efforts were made in Wuhan and the rest of the country to ensure all confirmed cases were hospitalized, early diagnosis made and early treatment provided, concentrated hospitalization implemented and a combination of traditional Chinese and Western medicine used. Hospitals were classified by grades and patients were admitted according to different conditions and symptoms. Treatment was provided free to relieve financial burden, lest the infected who could not afford treatment led to the spread of the virus.
1. Dual goals of containing the source of infection and extension of treatment
— Concentrated hospitalization of patients and increase of hospital beds ensured treatment for all patients who could not be admitted at the beginning of the outbreak. In Wuhan, two hospitals — Huoshenshan and Leishenshan — modeled after the Beijing Xiaotangshan SARS Hospital and each with a capacity of more than 1,000 beds, were constructed in 10 days. Through the construction of makeshift hospitals, the expansion of designated hospitals and the conversion of general hospitals, more than 100,000 beds were added in a short time, and as a result, beds were no longer in short supply. Furthermore, 200 negative pressure ambulances were brought from all over the country to ensure that newly-discovered cases could be treated without delay. All this enabled a large number of patients to be hospitalized and the cure rate was raised.
— Patients with serious and mild symptoms were separated, and a diverse treatment network of makeshift hospitals and designated hospitals was established. Patients with mild and serious symptoms were earlier treated in the same hospitals but later sent to different hospitals for different treatments. Those in serious, or critical, condition were treated in designated hospitals. ECMOs, ventilators and other equipment were supplied to 46 such designated hospitals. At the same time, exhibition centers, gymnasiums and other facilities were converted into makeshift hospitals for patients with mild symptoms. The 16 makeshift hospitals in Wuhan admitted up to 12,000 patients with mild symptoms, accounting for more than a quarter of the infected patients. Through centralized isolation and treatment for patients with mild symptoms, the makeshift hospitals, an important measure designed to cope with infectious diseases, not only facilitated the hospitalization of all confirmed patients but also reduced the chances of cross-infection in communities to a large extent.
2. Better treatment plan and better treatment method
— Treatment plans were tailored according to the severity of symptoms. Inspection teams consisting of academicians and experts were organized to regularly inspect designated hospitals. The experts discussed and evaluated treatment plans for critically ill patients in Wuhan's designated hospitals. Patients with mild conditions were admitted to the makeshift hospitals for comprehensive treatment such as antiviral therapy, oxygen inhalation, and traditional Chinese herbal medication to prevent their condition turning worse. For the more than 80% of severe cases with serious complications, a case-by-case treatment was prescribed after consultation with a multidisciplinary team consisting of experts on infections, respiratory, intensive care, heart, and kidneys and others. In addition, an array of standards was formulated for nursing patients in critical condition, and such measures as inhalation of large amount of oxygen, non-invasive and invasive mechanical ventilation, and prone posture for better ventilation as well as review of death cases, were adopted to ensure scientific treatment so that the fatality rate was reduced and the cure rate increased.
— Learning from treatment and constantly improving methods for diagnosis and treatment characterized the fight against the virus. On the basis of detailed analysis of preliminary treatment, the second edition of a manual for the management of cases with mild conditions, the third edition of a manual for the diagnosis and treatment of patients in severe and critical condition were formulated, and the fifth, sixth and seventh editions of the protocol for the diagnosis and treatment of COVID-19 were published.
Among them, a chapter on pathological changes was added to the revised version of the seventh edition, supplementing revision to clinical symptoms, diagnostic standards, treatment methods, and discharge standards. Such revisions were conducive to more accurate diagnosis and treatment according to the symptoms of different patients. At the same time, the latest edition added that asymptomatic cases may also be infectious and that recovered patients' plasma could be used in treatment. The seventh edition of the protocol for diagnosis and treatment has been adopted by many countries.
— Clinical treatment and scientific research were combined to strengthen the selection of effective drugs and the research and development of vaccines. Such drugs as favipiravir, chloroquine phosphate and plasma from those who recovered from infections went into clinical trials and timely feedback was obtained. Given there is no effective medicine yet, selected traditional Chinese herbal medicines (including Jinhua Qinggan Granule, Lianhua Qingwen Capsule, Xuebijing Injection, Qingfei Paidu Decoction, Huashi Baidu Decoction, Xuanfei Baidu Decoction) proved to be effective. Breakthroughs were made in the clinical trials of vaccines for COVID-19, plasma therapy and stem cell therapy. The improved treatment plan has significantly reduced the proportion of cases with mild symptoms developing into serious ones, and raised the recovery from 14 to 93 percent.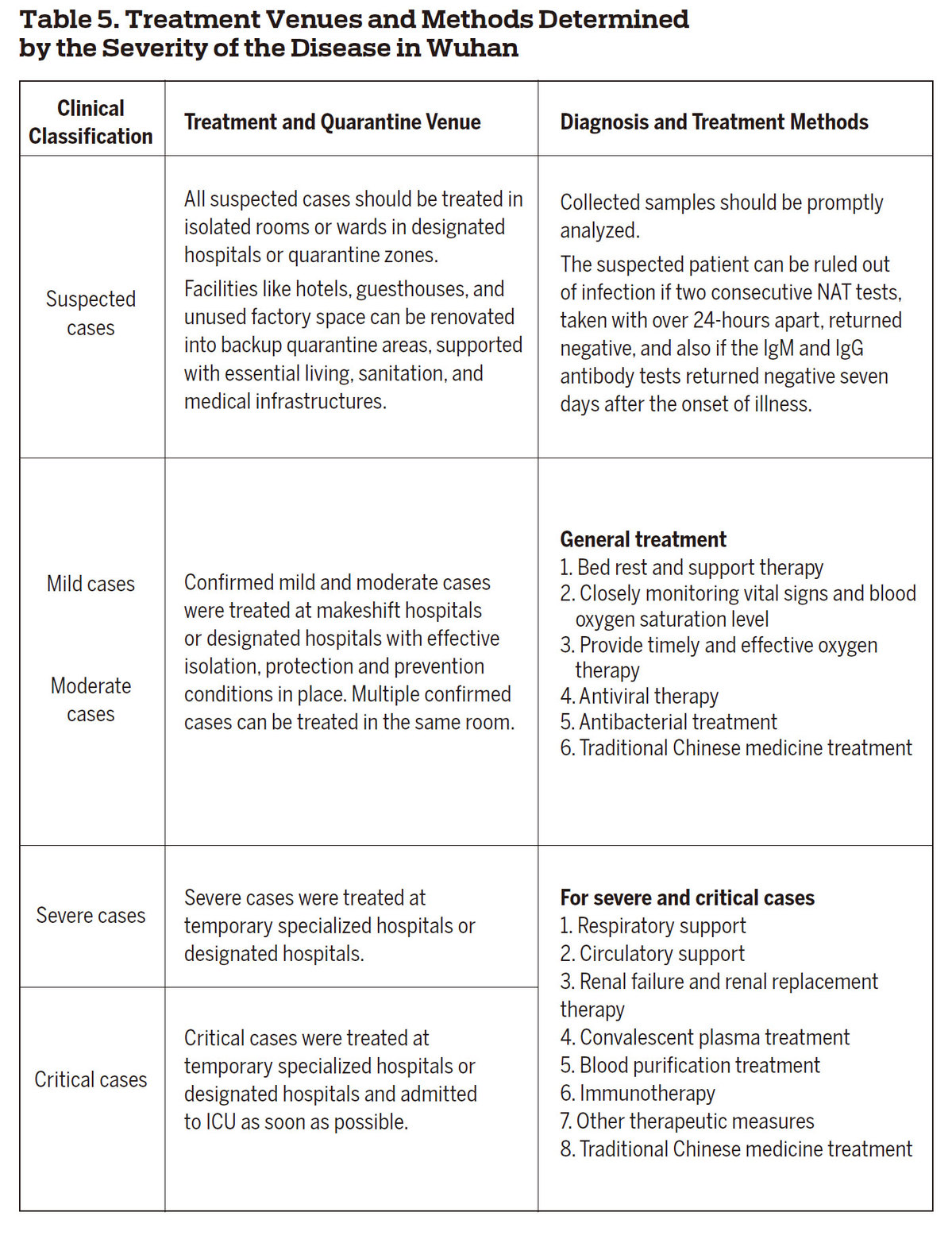 3. The positive role of TCM in treatment through preemptive prevention, differentiated medication and multi-target intervention
— The participation of TCM hospitals and teams paved the way for early intervention with traditional Chinese herbal medicines. Some designated and makeshift hospitals were holistically run by TCM teams. TCM doctors were also sent to other makeshift hospitals to help with treatment. Early use of traditional Chinese medicines for patients with mild symptoms was promoted; traditional Chinese and Western medicines were both used in patients with severe symptoms. TCM physicians participated in the holistic process of treatment and prescribed traditional medicines for those who had fever and those who had close contact with confirmed cases to improve their immunity. TCM medicines were also used for those who had recovered to strengthen their constitution.
— The wide use and effectiveness of the combination of TCM and Western medicine has proved to be a major feature of China's clinical treatment. Statistics show that the rate of TCM use and effectiveness in treating patients both in Hubei and the rest of the country was more than 90 percent. Clinical observation indicated that traditional Chinese medicine can effectively relieve symptoms, prevent mild and moderate cases from getting worse, improve the cure rate, reduce the mortality rate and speed up recovery.
Please feel free to contact us by sending your questions to question@chinadaily.com.cn or commenting on China Daily app. We will ask experts to answer them.