Online TCM platform established to assist in global pandemic fight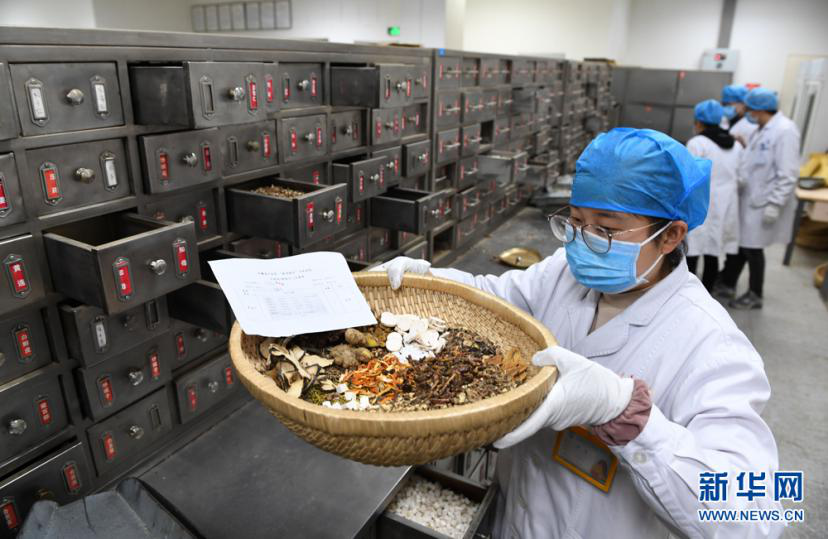 As the COVID-19 pandemic spreads quickly around the world, Beijing municipal authorities are making efforts to help people overseas use time-tested treatments of traditional Chinese medicine, or TCM, to prevent and treat the disease.
There is no known cure or vaccine for the disease caused by the novel coronavirus, which has infected more than 1.96 million and killed more than 126,000 people in 213 countries, areas or territories worldwide as of Thursday, according to the World Health Organization.
As mainstream treatments focus on relieving the symptoms, TCM can help because it generally works on boosting the human immune system to fight off the virus, industry people said.
The Beijing Municipal Administration of Traditional Chinese Medicine has jointly developed with multiple municipal departments a Chinese-English bilingual online platform-the Beijing Remote Health Service Platform-to share with the world China's experiences of fighting the disease using TCM.
Featuring official TCM guidelines on COVID-19 prevention and control, online consultations and health product information, the platform is accessible to overseas Chinese and Chinese students as well as foreigners who follow the WeChat account "Beijing Remote Health Service Platform".
The platform incorporated resources from 23 overseas Chinese medicine academic organizations, and more than 10 Chinese medicine, logistics, trade and other related companies. They cover 23 countries with 157 overseas branches, 24 overseas TCM clinics and 41 overseas respondents who can always serve users of the platform.
Through the platform, users could learn about TCM and official guidelines on disease prevention and control through video and texts, consult hundreds of TCM practitioners from the four top TCM hospitals in Beijing, and search for information where and how to get TCM treatments they need.
Shi Lichen, founder of Beijing Dingchen Consultancy, said the move is laudable as it provides feasible guidance to those who want to use TCM overseas such as how and where to get related products, especially since only a limited number of Chinese patent medicines and health products are available on foreign markets.
It is also vital that people overseas could consult TCM practitioners online because it is not easy to find a practitioner due to the weak presence of TCM in many foreign countries, he said.
"TCM solutions, including Chinese patent medicines, herbal formulas, and acupuncture, have proved effective to help control the progression of COVID-19. It is natural that there is an increasing overseas demand for TCM treatments, especially among overseas Chinese," he said.
"However, how to effectively meet such increased demand with limited resources overseas is important for TCM to help contain the pandemic even though TCM is getting greater influence and acceptance outside China."
In China, TCM has played an indispensable role in the prevention and treatment of several epidemic diseases including SARS (Severe Acute Respiratory Syndrome) in 2003. The National Health Commission's official guidelines on COVID-19 treatment have a subsection on TCM.
Statistics from the Beijing government showed 88.68 percent of COVID-19 patients in Beijing had used TCM treatments, with the overall improvement rate reaching 90 percent as of April 1.
Figures from the National Administration of Traditional Chinese Medicine showed a total of 74,187 confirmed patients, which account for 91.5 percent of the total infections on the Chinese mainland, had been administered TCM as part of their treatment. Over 90 percent had shown improvement by the end of March.
Zhang Boli, a TCM expert at the Chinese Academy of Engineering, said in a state media conference held last month that the wide application of TCM remedies with a mixture of massage, scraping and herbal paste among patients in makeshift hospitals in Wuhan, Hubei province, significantly prevented the disease progressing among patients with mild symptoms.
Together with the adoption of centralized medical quarantine in the area, both methods were vital for the effective containment of the disease in China.
Zhong Nanshan, a prominent Chinese respiratory disease expert, also promoted on different occasions some TCM therapies that are effective in anti-virus and anti-inflammatory treatments for COVID-19.
Please feel free to contact us by sending your questions to question@chinadaily.com.cn or commenting on China Daily app. We will ask experts to answer them.