Three COVID-19 vaccines approved for clinical trials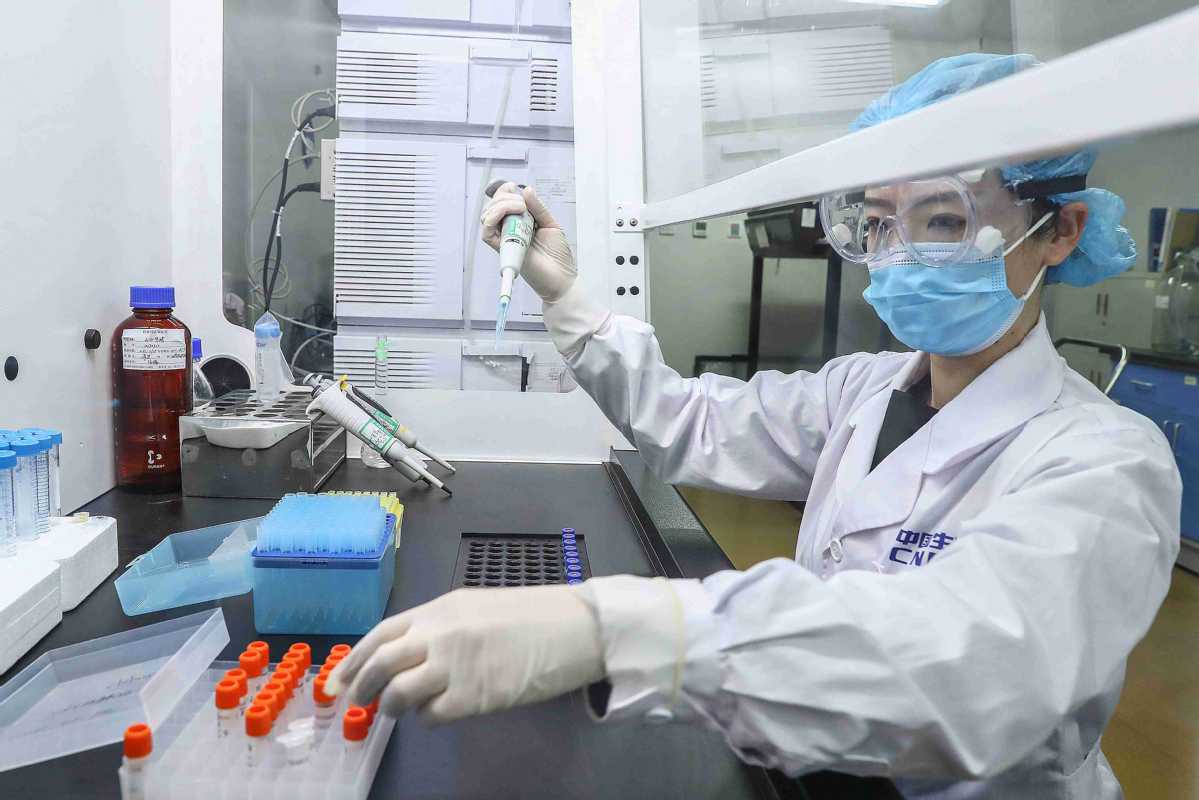 China has approved three vaccines, two inactivated and one vector, for clinical trials in China against COVID-19, officials from the Ministry of Science and Technology said on Tuesday. The vector vaccine has begun phase two of clinical trials, while the inactivated ones have entered phase one.
The adenovirus vector vaccine, spearheaded by noted preventive medicine expert Chen Wei, is the world's first vaccine against COVID-19 to enter the second phase of clinical trials, said Wu Yuanbin, director of the ministry's bureau for social development.
By the end of March, health workers have finished administering the vector vaccine to volunteers during its phase one trial. It began recruiting volunteers for the next phase on April 9, Wu said. Phase two trials typically examine a drug or vaccine's efficacy and side effects.
"A vaccine is a special product used by healthy people, so despite the emergency, its development should pay extra attention to its scientific processes," he said. "The adenovirus vector vaccine will also need to go through phase three clinical trials and other procedures before we can determine whether it is applicable."
A vector vaccine uses a chemically weakened virus, in this case an adenovirus, to transport pieces of the pathogen into the host tissue, according to the US Department of Health and Human Services.
It is a relatively new type of vaccine that is easy to mass produce, is generally safe, and can trigger a strong immune response against a range of targets ranging from cancers to infectious diseases such as Ebola. However, pre-existing immunity might accidently kill the viral carrier, reducing the vaccine's potency. This type of vaccine is also notoriously difficult to develop.
Inactivated vaccines use well-established technologies and manufacturing techniques, meaning that their quality is more guaranteed and can be accepted more easily by other countries due to the robust international efficacy and safety standards in place, Wu said.
One such vaccine was approved for testing on Sunday, and has been created by the Wuhan Institute of Biological Products Co and the Wuhan Institute of Virology of the Chinese Academy of Sciences. The other was approved on Monday, and was created by Sinovac Research and Development Co Ltd.
According to the US Department of Health and Human Services, an inactivated vaccine uses the killed version of the germ that causes a disease to trigger an immune response, and thus is incredibly safe because dead germs can't cause illness. It is used to safeguard against Hepatitis A, influenza, rabies and polio.
However, inactivated vaccines don't provide protection as strong as live-attenuated vaccines, which uses a living but weakened virus that may grant immunity lasting decades. Therefore, people may need several booster shots over time to get ongoing protection.
Wu said China is working on a live-attenuated vaccine against COVID-19, and it is currently being tested on animals for safety. The recombinant protein vaccine and nucleic acid vaccine are also in animal trials.
"These vaccines are expected to enter clinical trials in April and May," Wu said. "These are the fruits of enhancing scientific research during the pandemic."
Sun Yanrong, deputy director of the China National Center for Biotechnology Development, said China has launched 27 research projects, involving 152 institutions, related to the development of drugs and treatment for COVID-19.
Stem cell therapy has been shown to be safe when treating severely ill patients, especially in helping their lung tissue recover from scarring, she said. Plasma transfusions have also been tested on over 700 patients, with "very good therapeutic results", she added.
Monoclonal antibody treatment, a forum of immunotherapy that uses antibodies to mark pathogenic cells or proteins and tell the immune system to attack them, is also being researched and will be greatly supported, Sun said.
"Our scientific teams have never stopped their pace of research, and will continue to independently research more medicine and treatments to aid the epidemic control effort," she said.
Please feel free to contact us by sending your questions to question@chinadaily.com.cn or commenting on China Daily app. We will ask experts to answer them.