Traditional Chinese medicine playing valuable role in COVID-19 treatment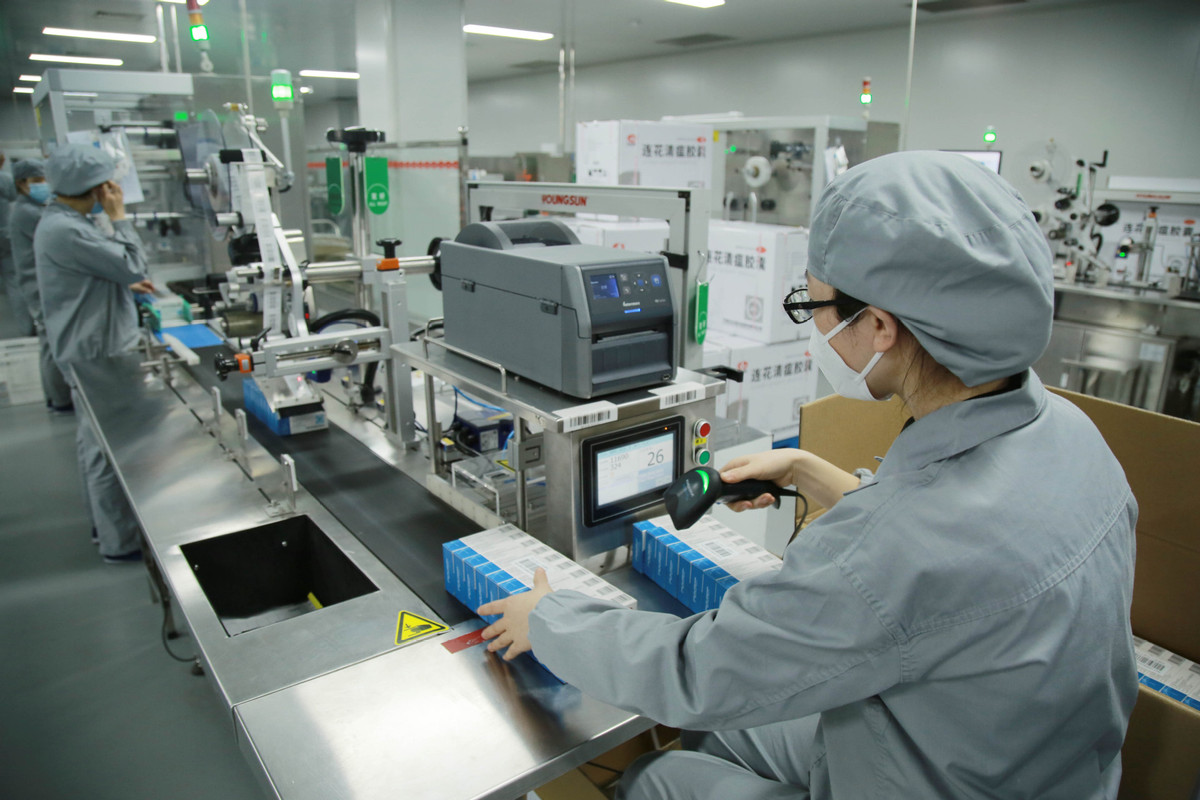 Shijiazhuang Yiling Pharmaceutical, which produces Lianhua Qingwen, a commonly available over-the-counter medicine in China, has seen its sales skyrocket after the traditional Chinese medicine proved effective in the treatment of symptoms related to COVID-19.
The company's revenue grew 50 percent year-on-year in 2020 on the back of surging Lianhua Qingwen sales. Net profit hit 1.22 billion yuan ($184.3 million) last year, up some 101 percent year-on-year, the company said.
TCM has been recognized by many countries worldwide as effective in alleviating some symptoms related to the novel coronavirus, but faces challenges in being exported to markets outside China, according to the company.
The biggest challenge for TCM being accepted abroad is the differences rooted in Chinese and Western cultures. Countries overseas sometimes misunderstand TCM, including how it is used, its efficacy and safety.
Different legal systems for drug registration and approval in various countries have also restricted the promotion of TCM around the world.
To tackle the problem, Yiling set up an international trade center in April 2020 to promote the techniques, ingredients and standards of TCM and its adoption in clinical use.
As a result, Lianhua Qingwen has obtained registration and approval in 22 countries and regions including Canada, Russia, Singapore and Kuwait.
Some countries, such as Thailand and Ecuador streamlined its approval in the wake of COVID-19. In Uzbekistan, the TCM was added to the COVID-19 treatment method, making it possible to be imported without tedious registration.
Since the outbreak of COVID-19, a group of experts have carried out basic and clinical research on the prevention and treatment of the disease with TCM and showed its practicability. Their efforts have provided wisdom for the whole world.
Under the guidance of the TCM administrations in China, the Yiling Medical Research Institute has held remote academic activities in more than 20 countries and regions, such as the United States, Canada, Italy and Thailand, to share TCM expertise.
The biggest difficulty in experimental study is that TCM formulas consist of complex systems, each of which is comprised of a collection of hundreds of chemical ingredients.
Lianhua Qingwen is composed of 13 kinds of Chinese herbs, and is a compound Chinese medicine. It is a combination of Maxing Shigan Decoction, formulated by Zhang Zhongjing, one of China's most celebrated physicians in the Han Dynasty (206 BC-AD 220) and Yinqiao Powder, formulated by Wu Jutong in the Qing Dynasty (1644-1911).
Experts from medical research institutes — such as the State Key Laboratory of Respiratory Disease at Guangzhou Medical University, Tianjin University of Traditional Chinese Medicine, Beijing Hospital of Traditional Chinese Medicine, School of Pharmaceutical Sciences Xiamen University and Second Military Medical University — performed evidence-based studies on Lianhua Qingwen's efficacy and functional mechanisms and found eight possible effective ingredients.
The study of Lianhua Qingwen began in 2003 when the SARS epidemic hit China. It was used as an innovative TCM for influenza symptoms, according to news portal huanqiu.com.
In the face of the SARS epidemic, academicians and experts at Yiling Medical Research Institute explored the usage of TCM in the treatment of such a disease and formulated its prescription.
After being tested by evidence-based research, Lianhua Qingwen was approved for the market in 2004, becoming a new member on the list of anti-influenza drugs in China. The research won second prize at the National Science and Technology Progress Awards in 2011.
On Feb 1, Lianhua Qingwen Capsules were listed as recommended Chinese patent medicines in the clinical treatment of light and ordinary-stage COVID-19 patients in Heilongjiang province.
So far, the drug has been included in China's COVID-19 diagnosis and treatment plan issued by the National Health Commission. In the US, research on the capsules has been placed into a group study and is under data analysis.
The history of TCM is a story of innovation. From the establishment of its theoretical system in the Qin Dynasty (221-206 BC) and Han Dynasty to its latest integration with Western medicine, the driving force to promote its development is innovation, according to the company.
Besides the study of Lianhua Qingwen, Yiling has also stepped up research into collateral diseases and has built an international platform for its innovative study.
In 2019, a TCM collateral disease theory project and guidance for the prevention and treatment of microvascular diseases, carried out by Yiling Medical Research Institute, won the first prize at the National Science and Technology Progress Awards.
As a result of Yiling's efforts, academic associations concerning collateral diseases have been established in Europe, Canada and the US. International academic exchanges on collateral diseases have been actively held to promote the cooperation and development on treating the disease.
Through cooperation with Cardiff University, Leiden University, Harvard and other medical research institutions, Yiling is committed to promoting TCM treatment in collateral disease and leading its teaching and scientific research around the world.
Please feel free to contact us by sending your questions to question@chinadaily.com.cn or commenting on China Daily app. We will ask experts to answer them.