TCM firm granted seal of approval during pandemic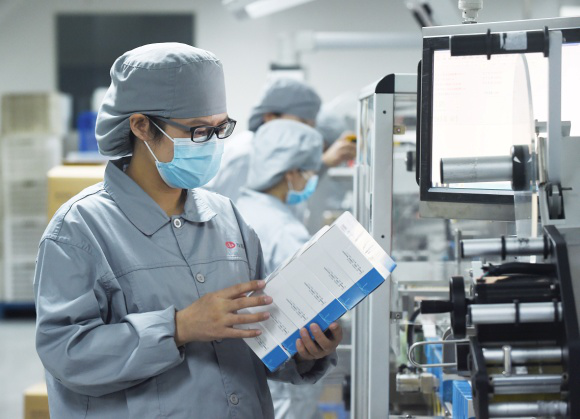 While the COVID-19 pandemic has swept a chill through the business world in general, causing many to struggle for survival in a sluggish market, the pharmaceutical industry is riding high on robust demand.
Traditional Chinese medicine businesses, in particular, have recorded an outstanding performance in the stock market in recent months, becoming a new favorite destination of capital, due to the unique role played by TCM in the fight against the virus.
As of May 22, nearly 50 listed biopharmaceutical companies in China had seen this year's growth in equity value surpass 50 percent, compared with that before the COVID-19 outbreak, The Economic Observer reported, citing data from Wind, a financial data service provider.
Eight of them, including Yiling Pharmaceutical, doubled their stock prices, the newspaper reported.
Yiling, headquartered in Shijia­zhuang, capital of Hebei province in North China, witnessed its stock prices hit the "limit up" levels — the upper trading curb mandated by the exchange to tame volatility — several times since the outbreak of the disease.
According to its first-quarter report released in April, the company generated more than 2.33 billion yuan ($330.6 million) in business revenue, an increase of 50.56 percent from the same period in 2019.
One of its signature products, Lianhua Qingwen capsules and granules roughly contributed 66 percent of the revenue, reaching more than 1.54 billion yuan, almost double year-on-year.
Inspired by three classical TCM recipes from the Han (206 BC-AD 220), Ming (1368-1644) and Qing (1644-1911) dynasties, Lianhua Qingwen is a patented drug. Its research started during the SARS epidemic in 2003, and a year later, it was approved for production in China.
The innovative drug, which won second prize at the 2011 National Science and Technology Awards, has been selected as a medical supply covered by the national medical insurance system.
Please feel free to contact us by sending your questions to question@chinadaily.com.cn or commenting on China Daily app. We will ask experts to answer them.