TCM leaves its mark in COVID-19 recovery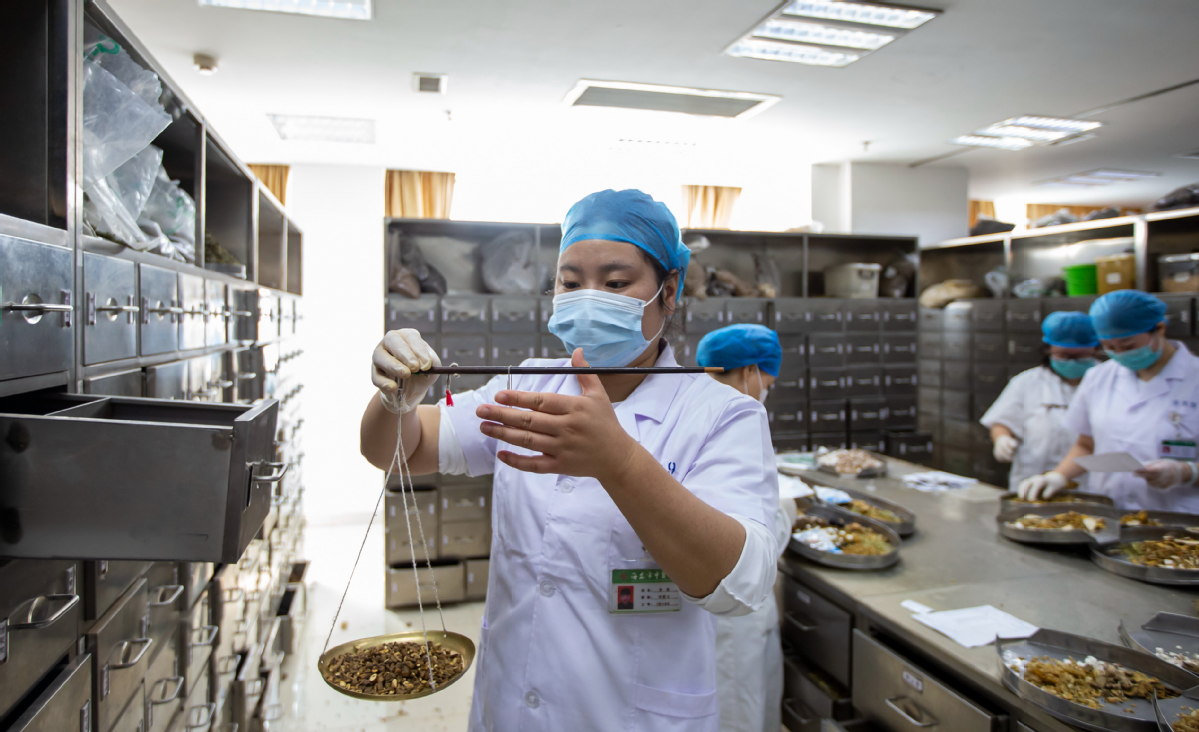 Editor's note: This series tells the stories of selfless individuals, from medical workers to volunteers, who are bravely fighting the virus outbreak with extraordinary dedication.
Chinese often rely on traditional Chinese medicine to treat common ailments. Many were surprised to learn that it could be used in the treatment of more serious conditions such as COVID-19, said Wang Zhenwei, deputy director of the respiratory medicine department, Yueyang Hospital, which is attached to the Shanghai University of Traditional Chinese Medicine.
Wang was among the first group of experts to bring Shanghai's experience of integrating TCM with COVID-19 treatment to Wuhan, Hubei province.
"TCM was already used during the SARS epidemic of 2003, but the public wasn't aware of. This time around, it was more obvious because when the antiviral and immune-boosting drugs and hormones failed to work, TCM became the last, and somewhat best, resort," said Wang, who specializes in both Chinese and Western medicine.
He was part of the 122-member national TCM medical team sent on Feb 15 to Leishenshan Hospital-which was built in just 12 days-in Wuhan to treat COVID-19 patients who were in a severe condition.
He had previously worked in a Shanghai hospital which was designated as a COVID-19 treatment center.
According to Wang, TCM was used on all patients at Leishenshan Hospital. He said that TCM therapies, including herbal decoction, acupuncture and baduanjin, a traditional Chinese fitness activity, have proven to be effective in reinvigorating lung, liver and spleen functions as well as restoring the immune system.
Recalling an 81-year-old woman, surnamed Wu, who was too weak to even talk when she was brought to Leishenshan Hospital, Wang said she was suffering from chronic problems, such as diabetes, hypertension and dysfunctional kidneys, and had inflammation in both the lungs.
To treat her, the medical team combined antibacterial treatment and nutritional support with TCM herbal decoctions and acupuncture treatment.
"The results were astounding," he said.
"Can you imagine a woman in her 80s running out of the ward when she is discharged from hospital? We couldn't get her for a group photo," said Wang.
Wang Min, a woman in her 60s and a patient who was severely ill, was the first to be discharged under the care of Wang's team. She recalled how practicing baduanjin during hospitalization helped in her recovery.
"I felt relaxed and happy after the exercise," she said. "Believe it or not, after several days of practice at the hospital, I even started to sing in the wards."
Wang said she now practices baduanjin for 15 minutes every day to stay fit.
As a traditional healing exercise, baduanjin is known for its effectiveness in improving the flow of energy, also known as qi in TCM, through the body.
This, in turn, alleviates one's anxiety levels, insomnia and discomfort in the gastrointestinal tract, all of which are common symptoms in COVID-19 patients, Wang said.
Compared with baduanjin, acupuncture was not as easily welcomed as many patients found the prospect of getting pricked by needles scary, he said.
Wang recalled a 35-year-old patient, surnamed Shi, who suffered from chest pains in the morning and breathing difficulties in the night. While Shi was initially afraid of acupuncture treatment, her anxiety levels reduced when she noticed improvements in her condition after just three days of the treatment.
"It was surprising to see the woman, who refused acupuncture at first, join other patients in requesting treatment every day thereafter," said Wang.
Please feel free to contact us by sending your questions to question@chinadaily.com.cn or commenting on China Daily app. We will ask experts to answer them.