Peking U translates pandemic control documents to share with Arab world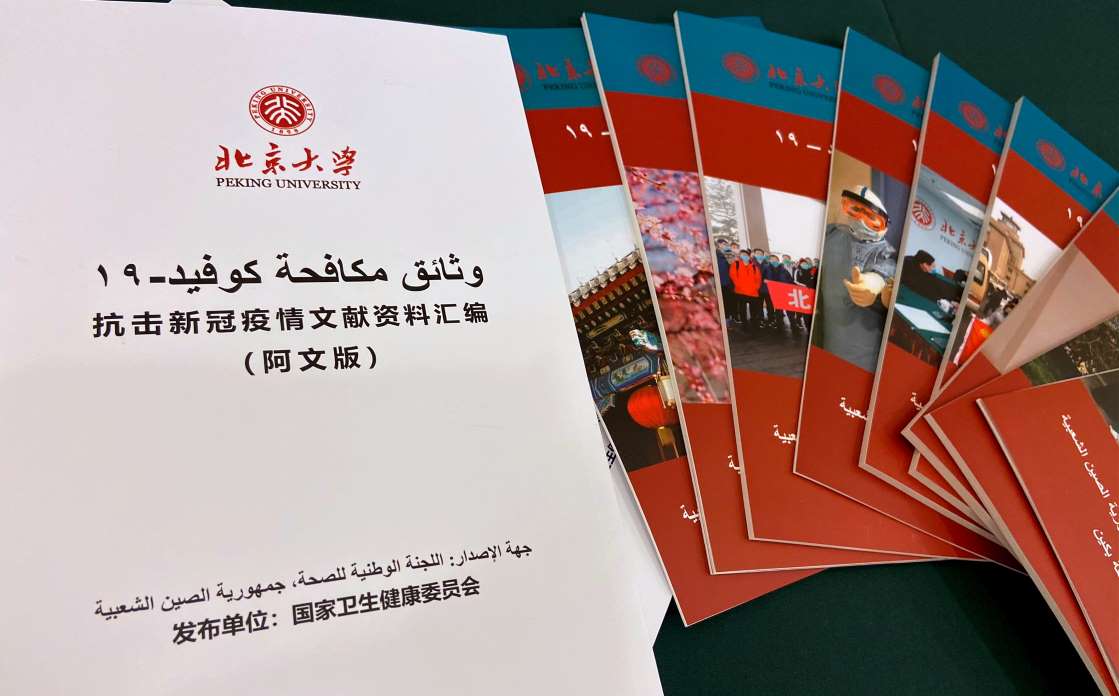 Peking University released its Arabic translation of China's official documents on prevention and control of COVID-19 on Wednesday, to share its experience with the Arab world and help them combat the virus.
Translation of the compilation, also known as the Counter COVID-19 Documents (Arabic version), was conducted by faculty and students from the university's School of Foreign Languages starting in March.
According to the school, the translation work consisted of the Protocol on Prevention and Control of COVID-19 (Editions 1-6) and the Diagnosis and Treatment Protocol for Novel Coronavirus Pneumonia (Trial Version 7) issued by the National Health Commission.
Han Qide, former vice-chairman of the national political advisory body,praised the work during a video conference with 11 Arab ambassadors to China, the director of the League of Arab States in China, and eight Arab envoys to China.
"These materials will greatly benefit health care authorities, medical experts, doctors, nurses and all people in the Arab world to gain a deeper understanding and draw upon China's experience in preventing and controlling the virus," he said.
Turki M. A. Almadi, Saudi Arabia's ambassador to China, expressed his gratitude to Peking University in the video and said he expected more universities, medical institutions and other organizations from both sides to join hands in curbing this outbreak.
In response, Hao Ping, president of Peking University, said the university would like to do its utmost to offer more help to Arab states in need in the fight against COVID-19, as the university has had extensive cooperation with the Arab world.
Liu Jin, director of the department of international cooperation and exchanges of the Ministry of Education, spoke highly of the translation work and called it a role model of international cooperation.
"In face of a common challenge, international community should enhance cooperation as the most powerful weapon. China will update medical treatment methods and technology against the virus and lend a hand to the rest of the world if needed," she said.
In addition to the Arabic work, faculty and students from the school have also compiled a multilingual COVID-19 terminology handbook in 21 languages in an effort to help foreigners better understand medical terms about COVID-19.
Meanwhile, Chen Binbin, a PhD candidate from the Department of Chinese of the university, set up a translation group known as the China-Iran Epidemic Prevention Mutual Assistance Team, bringing together more than 200 volunteers from China, Iran and Afghanistan to translate China's experience on the virus into Persian and sharing them with Iranians via social media platforms.
Please feel free to contact us by sending your questions to question@chinadaily.com.cn or commenting on China Daily app. We will ask experts to answer them.