What is the progress of vaccine research and development in China?
It is important to note that the information provided in this Series is intended for your general knowledge only and is not a substitute for professional medical advice or treatment.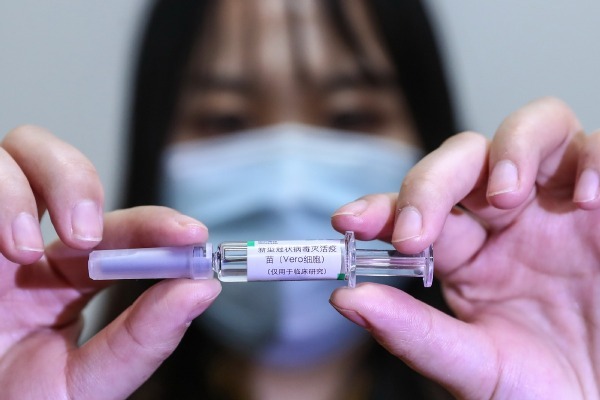 In order to control the spread of the novel coronavirus as soon as possible, research teams in China are actively developing effective vaccines. So far, some important progress has been made.
First, China's COVID-19 vaccine research and development is simultaneously pushed through five technical routes, namely inactivated vaccines, nucleic acid vaccines, recombinant protein vaccines, adenovirus vector vaccines and vaccines using attenuated influenza virus as vectors. At present, more than 20 research institutions and enterprises in China are developing COVID-19 vaccines. The Wuhan Institute of Biological Products and the Beijing Institute of Biological Products are developing inactivated vaccines. The Institute of Microbiology of the Chinese Academy of Sciences, the Institute of Military Medicine under the Academy of Military Sciences and some other scientific units are focusing on recombinant protein vaccines. Academician Chen Wei's team from the Institute of Military Medicine is cooperating with the CanSino Biologics to develop adenovirus vector vaccines. At the same time, relevant institutions and enterprises are collaborating with companies and research teams from the United States, Germany and Britain on recombinant protein vaccines and nucleic acid vaccines, and more international cooperation is underway.
Second, China's COVID-19 vaccine R&D is progressing smoothly. At present, China has approved three COVID-19 vaccine candidates for clinical trials. On March 16, an adenovirus vector vaccine, developed by a research team led by Academician Chen Wei, was the first to receive clinical trial approval. By the end of March, volunteers of the phase one trial had all completed injection. The research team began recruiting volunteers for the second phase on April 9. It is the first COVID-19 vaccine in the world that has entered the second phase of clinical trial. On April 12, the National Medical Products Administration approved one inactivated vaccine developed by the Wuhan Institute of Biological Products and Wuhan Institute of Virology, CAS, for clinical trials. Another inactivated vaccine candidate developed by the Sinovac Research and Development Co Ltd, a company based in Beijing, was approved for clinical trial on April 13. Existing experiments prove that inactivated vaccines can trigger good immune response in animals after immunization and have obvious protective effect on animals without observed ADE effect. Most of other research and development teams are expecting to complete preclinical study in April and to start clinical trial step by step.
Third, vaccine research and development has received fiscal support. Research units are now working on different steps of vaccine development simultaneously regardless of cost, which effectively speeds up the development. Normally, vaccine development consists of several stages, such as antigen preparation, preclinical animal experiments, clinical trials, manufacturing and quality control. One stage may have many phases or involve different experiments that should be carried out one by one, thus it generally takes many years to develop a vaccine. However, many teams are now working at the same time, each responsible for one task. For example, some people are running neutralizing activity tests while some are conducting animal poison attack experiments, and others are doing safety evaluation experiments and clinical trials. In this way, we can save much time. However, it is a very risky strategy. For instance, if a team finds that the vaccine has no protective effect during animal experiments, while other teams have completed their work such as large-scale production, it will be a huge waste of time and money. Therefore, this strategy can only be adopted under special circumstances. In order to ensure the smooth progress of vaccine R&D and to protect people's lives and health, the Ministry of Finance issued a notice on guaranteeing funds for the prevention and control of the epidemic, requiring local financial departments at all levels to increase financial support, fully cooperate with relevant departments to allocate funds in a timely manner and effectively ensure the funding needs of scientific research such as vaccine research.
Fourth, special attention is paid to the safety and efficacy of vaccines. Chinese regulatory authorities require vaccine research and development to be scientific, safe and effective, with special emphasis on scientific and procedural requirements. Each step of vaccine R&D has to abide by corresponding technical regulations that are consistent with international standards formulated by the World Health Organization (WHO) and other organizations. WHO Director-General Tedros Adhanom Ghebreyesus also welcomed the results of China's vaccine trials.
It should be made clear that even if vaccines can be successfully produced, they may become ineffective if serious virus mutations occur in the future. They may also have no effect on new highly pathogenic coronavirus emerging in the future. Therefore, it is very important to develop safe, efficient and broad-spectrum anti-coronavirus vaccines.
References:
[1] Xinhua. As for China's COVID-19 vaccines, all your concerns are here. April 16, 2020
[2] Guangming Daily. Scientific Research of Drugs and Vaccines in China progresses smoothly. April 15, 2020
Author: Hao Zhirong, Hua Ruoyun, Center for International Knowledge on Development
Please feel free to contact us by sending your questions to question@chinadaily.com.cn or commenting on China Daily app. We will ask experts to answer them.