Why measuring body temperature at the entrances of communities and public places?
It is important to note that the information provided in this Series is intended for your general knowledge only and is not a substitute for professional medical advice or treatment.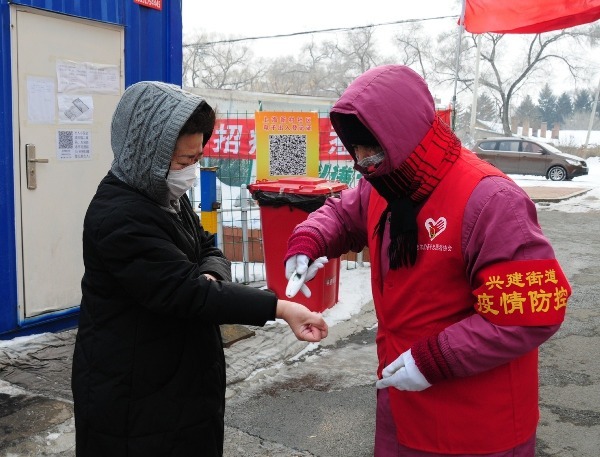 Measuring entrants' temperatures at the entrances of communities and public places is one of the major epidemic prevention and control methods in China. As early as late January, when closed-off community management was adopted, community workers set up checkpoints and were responsible for measuring and registering entrants' temperatures. The Guidelines on COVID-19 Prevention and Control (3rd edition) issued by the National Health Commission (NHC) on January 28 pointed out that temperature measurement should be implemented in public places such as stations, airports, docks and shopping malls in line with local epidemic situations. On April 8, in the context of orderly promoting work and production resumption, the Chinese government released the Circular on Prevention and Control Measures for Key Venues, Units and Groups. This document further clarified detailed operating rules of measuring entrants' temperatures in different public places. Measuring temperature has been implemented in China for the following reasons.
First, people often gather in communities and public places, increasing the risks of clustering infection. Many cities, especially large and medium-sized ones, are characterized by large population and high population density and mobility in China. This means that large-scale infection may happen in a short period of time if there is one confirmed case. As such, screening should be carried out in public areas and communities to reduce the risks of virus transmission.
Second, body temperature detection is the simplest and most efficient means to identify infected groups. Although some patients do not show the symptom of fever at the early stage or even throughout the whole course, fever is still one of the main clinical features. According to the Diagnosis and Treatment Protocol for COVID-19 (7th edition) issued by the NHC, "Fever, dry cough and fatigue are the main manifestations". Therefore, as the easiest, most efficient and cost-effective way to identify infected groups, body temperature measurement is useful in screening out potential COVID-19 cases in the early stage.
Third, the development and application of the intelligent body temperature detection system improves the feasibility of this measure. The intelligent body temperature detection system is currently in use in subways, shopping malls and other public places with high traffic volumes. The non-contact system completes body temperature measurement within 1 second with high accuracy. This can effectively improve efficiency, save manpower, prevent congestion and reduce the risks of cross infections.
Last but not least, this measure enjoys high level of public acceptance in China. In the prevention and control of many infectious diseases such as SARS, Ebola, Dengue Fever and H1N1, measuring body temperature was used as a major screening method by relevant disease prevention and control institutions in key epidemic areas in China. Besides, there are often specialized workers in different communities and public places such as shopping mall guards, community property managers and volunteers. Body temperature detection of entrants is one of their major tasks, so no extra manpower is required.
Overall, most of the COVID-19 patients have shown the symptom of fever. As such, conducting body temperature detection at the entrances of communities and public places can rapidly identify and control infection sources by covering a large scale of population. As an initial screening method, it supplements nucleic acid test and antibody test for specific groups and plays a vital role in epidemic prevention and control in China.
Author: Wang Xiongjun, Yu Lu, Center for International Knowledge on Development
Please feel free to contact us by sending your questions to question@chinadaily.com.cn or commenting on China Daily app. We will ask experts to answer them.