Did China arrest whistle-blowers?
The following is one of the 16 most common rumors about the COVID-19 epidemic related to China, compiled and published by the Chinese embassy in Germany. The original version was published in Chinese and German. China Daily did some minor editing and updated a few figures in translation.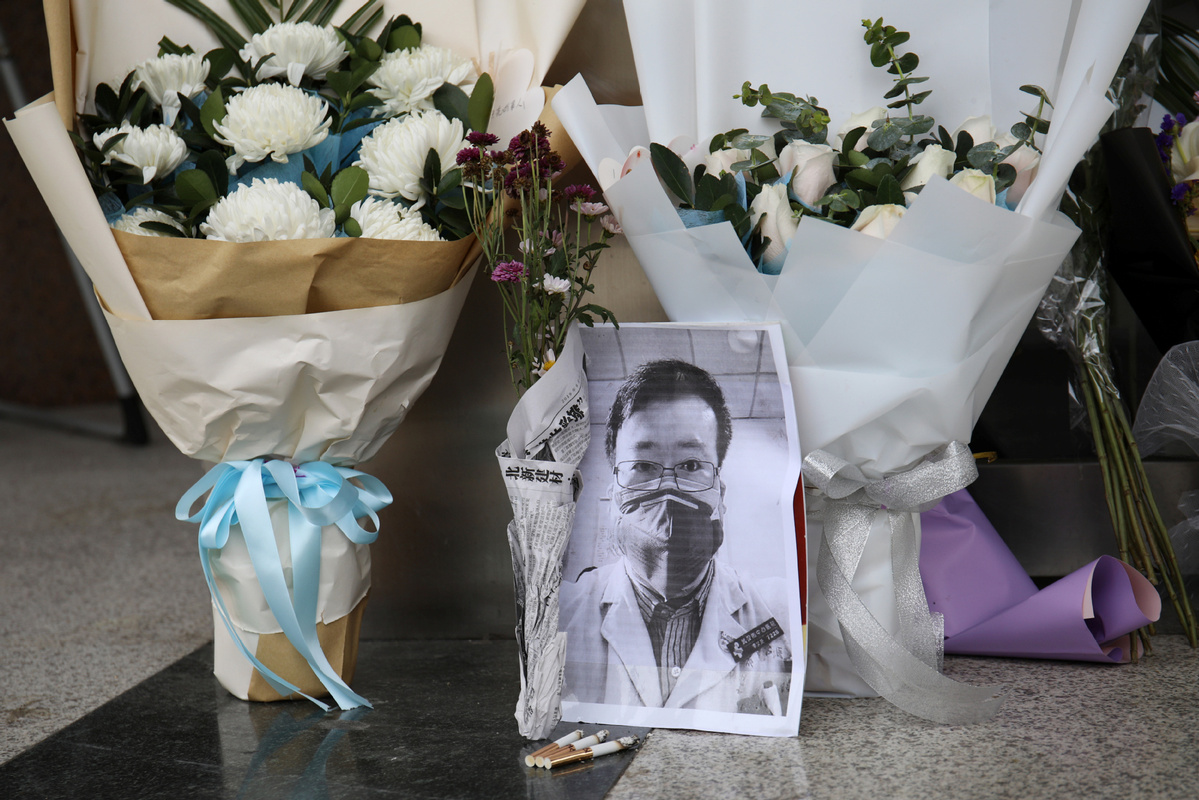 Rumor: China attempted to suppress information about the epidemic by arresting whistle-blowing doctors.
Fact: No doctors have been arrested for whistle-blowing. In contrary, doctors who reported the disease to their higher-ups were rewarded by central authorities.
On Dec 30, 2019, Wuhan ophthalmologist Li Wenliang shared a lung CT scan and other medical records in a private WeChat (a popular instant-messaging app in China) group with his medical school classmates. Li claimed seven people were confirmed to have contracted SARS, and reminded the group members not to further spread such information.
However, the screenshots were widely shared on the internet. On Jan 3, 2020, the Wuhan police reprimanded Li and asked him not to spread SARS-related rumors as they might cause social panic. Li was not fined or arrested, and returned to his post with no further punishment. In mid-January, Li got infected while treating a COVID-19 patient, and tested positive for COVID-19 on Jan 31. He died on Feb 7, 2020 after arduous rescue efforts. On the same day, the National Health Commission sent condolences for his death.
Doctor Li is not a "whistle-blower" in the sense defined by western media. He had never reported the situation to health authorities, nor openly warned the public. As a matter of fact, on Dec 27, 2019, Zhang Jixian, another doctor in Wuhan, already notified local authorities about an unknown pneumonia, and the government had been investigating the situation for three days before Li made his claims in WeChat. Zhang was later rewarded for her actions.
https://global.chinadaily.com.cn/a/202003/20/WS5e741294a3101282172809ac.html
On Feb 7, 2020, the National Supervisory Commission sent a delegation to Wuhan to investigate issues related to Li's death. The findings were published on March 19, saying the police probe into the matter was carried out in accordance with the law, as the Law on the Prevention and Treatment of Infectious Diseases has strict requirements on the reporting, verification and release of epidemic information. But the action taken by the police to reprimand Li was inappropriate, and the law enforcement procedure was also not up to standards. On the same day, the Wuhan police revoked the reprimand letter to Li, and sincerely apologized to his family.
http://www.ccdi.gov.cn/toutiao/202003/t20200319_213880.html
Li was a good doctor, and a member of the Communist Party of China. On April 2, the Chinese government deemed him a martyr. However, the United States took advantage of his unfortunate death, and painted him as an anti-communist fighter, which is baseless.
The Independent Media Institute has investigated the matter.
https://independentmediainstitute.org/growing-xenophobia-against-china-in-the-midst-of-coronashock/?from=singlemessage&isappinstalled=0
Please feel free to contact us by sending your questions to question@chinadaily.com.cn or commenting on China Daily app. We will ask experts to answer them.