How did the Chinese government address misinformation amid the COVID-19 outbreak?
It is important to note that the information provided in this Series is intended for your general knowledge only and is not a substitute for professional medical advice or treatment.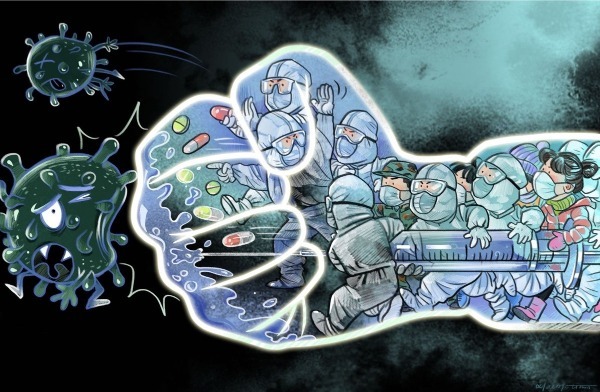 Misinformation and rumors may mislead the audience, cause or exacerbate panic, anxiety and disturb the implementation of prevention and control measures. As such, fighting misinformation and rumors has become an important task. The Chinese government adopted the following measures to tackle this issue.
First, the Chinese government provides timely updates on the novel coronavirus and the epidemic. Rumors are most likely to occur and spread when people are curious about the truth of major events while relevant information is extremely limited. Therefore, timely, sufficient and transparent information disclosure provides useful means to suppress the diffusion of rumors. The Chinese government has attached great importance to information disclosure amid the outbreak. Since January 21, the National Health Commission (NHC) has been sticking out daily briefings on novel coronavirus cases in China, reporting confirmed, suspected, severe, cured and death cases happened as of 24:00 on the previous day. Such information is lively presented on official media such as Xinhuanet and People's Daily and other Internet platforms and new media, keeping the public informed of the latest development of the epidemic. Local governments also provide updates of local situations through official websites, media and news conferences.
Second, the Chinese government engages experts in popularizing scientific knowledge on the virus and the epidemic. Medical professionals and experts often have people's trust because of their expertise and can thus help effectively dispel the public's doubts and misunderstandings arising from rumors. The Chinese government has paid special attention to experts' role in communicating with the public amid the COVID-19 outbreak. Authoritative experts including Zhong Nanshan, Li Lanjuan and Zhang Wenhong accepted interviews from official media such as China Central Television and Xinhua News Agency many times to spread knowledge, interpret policies and clarify rumors in a straightforward and understandable manner. Such efforts were widely appreciated by the public.
Third, the Chinese government quickly clarifies misinformation, fake news and rumors. To alert the public about online rumors and refute slanders, a national-level platform was launched in August 2018. In late January 2020, this platform opened a new section to focus on rumors about COVID-19. Users can not only verify information and check latest developments of the epidemic, but also report rumor clues by following the prescribed procedures. As of April 10, this section had released more than 750 messages, of which about 600 were to refute slanders. Many Internet platforms, especially new media, have also actively taken measures to refute misinformation. For example, Dingxiangyuan, The Paper, Tencent News have all set up new columns to clarify rumors; Baijiahao, with the support of experts, has launched Baijia List of Rumors; Sina Weibo also helps dispel rumors through opening a special section of its "Combating COVID-19", collecting clarified daily information and sending such information to users.
References:
[1]http://www.nhc.gov.cn/xcs/xxgzbd/gzbd_index.shtml
[1]http://www.piyao.org.cn/2020yqpy/
Author: Yu Lu, Center for International Knowledge on Development
Please feel free to contact us by sending your questions to question@chinadaily.com.cn or commenting on China Daily app. We will ask experts to answer them.