How to expand production capacity of testing kits in a short time?
It is important to note that the information provided in this Series is intended for your general knowledge only and is not a substitute for professional medical advice or treatment.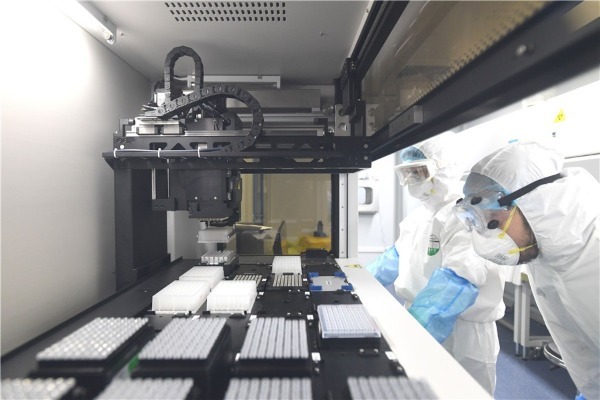 During a news conference in Geneva, WHO Director General Tedros Adhanom Ghebreyesus said, "We have a simple message to all countries - testing, testing, and more testing." He further pointed out that without testing, cases could not be isolated, and the chain of infection would not be broken. To conduct sufficient testing, there need to be enough testing kits. As of March 31, China's daily production of nucleic acid tests and antibody test kits had reached 3.06 million and 1.2 million respectively. China took two key measures to expand the production capacity of testing kits.
First, Chinese regulatory authorities adopted emergency review and approval procedures during the outbreak. Under normal circumstances, it takes 3-5 years or even longer for a nucleic acid testing kit to go through the process of development, clinical trials, and certification. In response to the outbreak, China's National Medical Products Administration (NMPA) adopted emergency review and approval procedures for medical devices and was able to fast-track the review and approval process. By the end of March, the NMPA had approved 25 types of COVID-19 testing kits, including 17 nucleic acid testing kits and 8 antibody testing kits, effectively expanding the supply of nucleic acid test kit.
Second, China enhanced production allocation. Members of the Joint Prevention and Control Mechanism of the State Council further strengthened coordination, had in-depth communication with enterprises, and kept track of real-time daily production. They also helped enterprises address problems such as shortage in protective equipment, difficulty in cash flow, lack of returning workers, and poor cold-chain transportation. Such measures have created conditions for enterprises to rapidly expand production capacity.
Emergency review and approval procedures and support for production have effectively solved the shortage of testing kits, bringing a large number of testing kits into the market. However, this has also created problems like false advertising and poor quality. Chinese authorities are stepping up regulations and demanding enterprises to complete all clinical verifications in line with relevant laws and regulations.
Author: Hua Ruoyun, Center for International Knowledge on Development
Please feel free to contact us by sending your questions to question@chinadaily.com.cn or commenting on China Daily app. We will ask experts to answer them.