Why did China deploy civil servants to grassroots level to fight against COVID-19?
It is important to note that the information provided in this Series is intended for your general knowledge only and is not a substitute for professional medical advice or treatment.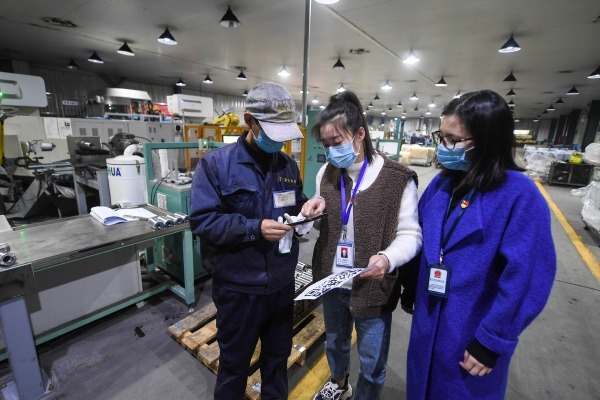 On February 10, Chinese President Xi Jinping visited Anhuali Community, Chaoyang District of Beijing to learn about the epidemic prevention and control at the primary level. He pointed out that civil servants should be deployed to communities to support them and to set up a defense line against the epidemic. Afterwards, many localities have carried out this measure. As of February 27, more than 70,000 district-level civil servants in Beijing had been working in all the 7,120 communities/villages [1]. China required civil servants to work in communities amid the outbreak for the following reasons.
First, communities encountered manpower shortage due to heavy workload. "Since the outbreak, nearly 4 million community workers have been fighting COVID-19 in 650,000 communities, with 6 workers guarding one community and one worker serving 350 residents on average," said an official from the Chinese Ministry of Civil Affairs at a news conference of the Joint Prevention and Control Mechanism of the State Council on February 10 [2]. Community workers were responsible to undertake a bunch of tasks such as coordinating hospital beds, screening and tracking residents, collecting epidemic information, publicizing knowledge, managing sanitation issues and helping disadvantaged groups purchase daily necessities. Therefore, enhancing manpower at community level enables communities to perform their critical roles in containing COVID-19.
Second, civil servants could take advantage of their resources to provide effective support to communities. Generally speaking, civil servants were competent, knowledgeable and familiar with administrative procedures and latest policies. More importantly, they could tap the potential of the resources of their own institutions. Therefore, civil servants could provide guidance and supervision when disorder and chaos occurred in communities. They could also utilize the resources and networks of their own institutions to meet the gaps of communities in mobilizing resources and raising funds.
Third, civil servants working at grassroots level helped build closer connection with the public. During the epidemic outbreak, frontline staff had to face laborious tasks and huge infection risks. Through working at grassroots level during emergency, civil servants could increase their understanding of residents' conditions and actual demands, which could later be incorporated into decision-making and implementation. The Chinese government has long practiced such approaches to build and maintain close ties with the people.
In implementation, government agencies and public institutions were twinned with street/town-level governments, the lowest level of government that directly serve the communities. Civil servants were deployed in line with local needs and requirements and performed their duties with clear disciplines and incentives.
References:
[1]https://baijiahao.baidu.com/s?id=1659666463285594639&wfr=spider&for=pc
[2]http://acftu.people.com.cn/n1/2020/0211/c67502-31581826.html
Author: Yu Lu, Center for International Knowledge on Development
Please feel free to contact us by sending your questions to question@chinadaily.com.cn or commenting on China Daily app. We will ask experts to answer them.