Why did some COVID-19 patients test positive after recovery?
It is important to note that the information provided in this Series is intended for your general knowledge only and is not a substitute for professional medical advice or treatment.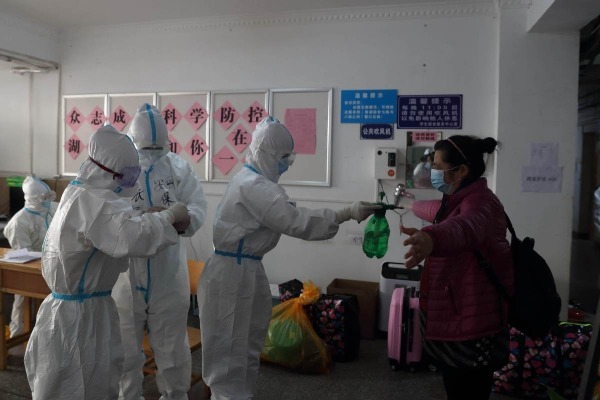 Some patients have showed positive nucleic acid test (NCT) results after being discharged from hospitals. Though specific reasons are yet to be identified, we think the following factors might be relevant.
First, it is related to the structural characteristics of the virus. Study shows that SARS-CoV-2 virus is a new RNA molecule that might emerge from natural recombination, which is a key element of coronaviruses' natural evolution process. The new virus might just feature repeated and protracted symptoms.
Second, it is related to testing methods. Currently, the most commonly used sampling method is to collect patients' upper respiratory tract secretions through throat swabs, but the virus is hidden deep in patients' lungs. As such, the results of conventional bronchoalveolar lavage fluid and nasopharyngeal swab tests might show negative, while the patient could still be carrying the virus for an unknown period of time. Furthermore, the NCT only detects fragments of the SARS-CoV-2 nucleic acid, and false-negative result is likely to occur if the sample size is too small. The test kit itself may also occasionally appear false-negative for those who are infected.
Third, it is related to the limited role of glucocorticoids. Study shows that 58% of the patients with COVID-19 pneumonia have been given systemic glucocorticoid therapy. The more severe the symptoms are, the greater doses of glucocorticoids are used. Glucocorticoids prolong viral clearance in patients and increase the risk of symptom recurrence. Moreover, glucocorticoid therapy may suppress body immune functions, making it difficult to get rid of the virus and increasing the possibility of recurrent positive NCT results.
Fourth, testing positive does not necessarily mean being re-infected. Though there has been no report of new contagiousness, it is still essential to closely watch these discharged COVID-19 patients. The recurrence of positive NCT results detected so far happens basically within two weeks after the patient is discharged from hospital, depending on fragments of the virus's nucleic acid. Observed from the viral load and nucleic acid conditions, contagiousness of those with recurrent positive test results is very low. Until now, China has not received reports of infections from those tested positive after initial recovery. While this issue awaits further research, China's Protocol for Diagnosis and Treatment of Coronavirus Pneumonia ( Edition 7) requires 14-day further quarantine and observation following their release from hospitals to reduce the risk of infection.
References:
[1]https://jamanetwork.com/journals/jama/fullarticle/2762452?resultClick=1
[2]https://baijiahao.baidu.com/s?id=1661938721892568477&wfr=spider&for=pc
[3] Liu W, Tao ZW, Wang L, et al. Analysis of factors associated with disease outcomes in hospitalized patients with 2019 novel coronavirus disease[J/OL]. Chin Med J(Engl), 2020, 133. DOI: 10.1097/CM9.0000000000000775.
Authors:
Lin Weiwei,Institue of Medical Information, Chinese Academy of Medical Science
Hu Dengsheng, Center for International Knowledge on Development
Please feel free to contact us by sending your questions to question@chinadaily.com.cn or commenting on China Daily app. We will ask experts to answer them.