What impacts has the COVID-19 outbreak cast on digital transformation in China?
It is important to note that the information provided in this Series is intended for your general knowledge only and is not a substitute for professional medical advice or treatment.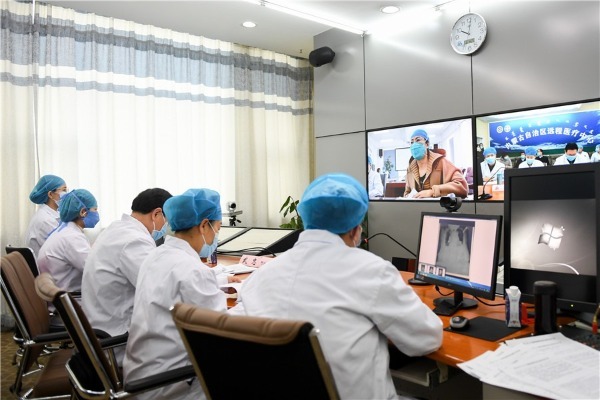 The COVID-19 outbreak has imposed massive limits on social and economic activities within China and beyond. A wide variety of industries have become testing grounds of new technologies. Among them, digital technologies are playing an unprecedented role in collecting and releasing information, providing daily life necessities, conducting medical activities and resuming business and production during the pandemic. The outbreak has accelerated China's digital transformation by stimulating efforts of residents, corporations and governments.
Residents in China have developed or further strengthened habits of using the Internet during the outbreak. The elderly, peasants and other groups that were new to the Internet have gradually adapted to online services such as telehealth, news updates and grocery shopping. The Internet penetration rate in China could rise from 61.2 percent to the level of developed countries after the outbreak. For those who were already familiar with online activities, the outbreak has created new demand structures. People are now requiring some offline consumption scenarios to be moved online and others to develop better online-offline integration. At the same time, contents and scenarios of online activities keep being enriched. Internet usage rocketed amid the COVID-19 outbreak. According to the Chinese Ministry of Industry and Information Technology, mobile Internet usage during the Spring Festival amounted to 2.716 million TB, with a year-on-year growth rate of 36.4 percent.
The outbreak has also facilitated digital transformation in the private sector. First, companies are pushed to innovate their services to survive the epidemic. 80 percent of the Chinese service sector is not yet digitized while new technologies are poorly infiltrated into traditional industries, contributing merely 10 percent to the value added. Supported by digital technologies including 5G, AI, big data, cloud computing and the Internet of things, emerging business forms and models, such as contactless delivery, online education, remote working and shared employees, are sprouting up amid the outbreak. Many companies are also taking the chance to achieve primary digital transformation. For example, Meicai Mall adjusted from B2B to B2C in 10 days. Qmai, a platform for e-commerce retailers, is now providing delivery services. Perfect Campus, a smart campus service platform for college students, has developed an online health monitoring application. Second, a large number of employers are equipping themselves with new working models such as telecommuting, online conference and online work delivery. Statistics show that the number of online work management applications boomed from only a few to more than 20. Since February 3, over 10 million employers have organized 200 million workers to resume work through the Internet. On February 10, service volume of Wechat Work rose by ten times.
Digital governance in China has thrived as well during the outbreak. Propelled by epidemic control needs, governments at every level have speeded up to digitize public infrastructure and public services. With the support of big data and AI, digital governance and e-government services are playing a crucial role in disease prevention and control by tracking people outflow, monitoring public opinions and fulfilling other functions. After COVID-19 broke out, Guangdong provincial government immediately updated its e-gov applications to collect disease data. Users of the "Easy Guangdong" platform increased from 2.5 million to 3.6 million. At the same time, government-business collaboration is becoming a new trend. As a widely used product of such cooperation, "Health Code" has become an effective digital pass in containing the outbreak and in resuming business and production. During the first month of operation, 6.62 million residents applied for Tianjin Health Code, while the accumulative number amounted to 56.9 million.
Author: Zhu Qingyi, Center for International Knowledge on Development
Please feel free to contact us by sending your questions to question@chinadaily.com.cn or commenting on China Daily app. We will ask experts to answer them.