How did China meet the needs of medical staff when face masks were in short supply?
It is important to note that the information provided in this Series is intended for your general knowledge only and is not a substitute for professional medical advice or treatment.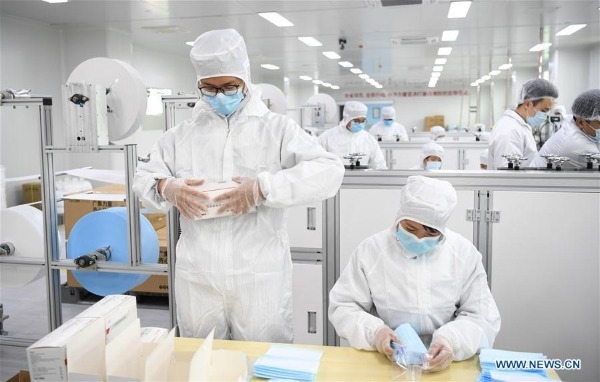 At the very early stage of the COVID-19 outbreak, China faced severe shortage of personal protective equipment (PPE) such as masks (especially the N95 respirators). The Chinese government took the following measures to ensure that the needs of medical staff were prioritized and met.
First, the general public were called upon not to wear N95 respirators for the sake of protecting front-line medical workers. There are two kinds of masks for epidemic prevention and control: surgical masks and N95 respirators. Research shows that surgical masks and N95 respirators can filter 70 percent and 95 percent of bacteria and viruses respectively. Authoritative experts including Zhong Nanshan and Zhang Wenhong pointed out that surgical masks could prevent most droplets with virus from entering respiratory tract and hoped that the general public would not occupy valuable medical resources to ensure that N95 respirators were used to protect front-line medical workers.
Second, the general public were encouraged to wear masks reasonably through extended use and limited reuse to save mask resources. According to the Guidelines for the Selection and Use of Masks of Different Groups in Preventing Novel Coronavirus Infection released by the State Council, extended use and/or limited reuse of masks could be appropriately allowed when acceptable, but attention should be paid to the preservation, cleaning and disinfection of masks. Meanwhile, the public is advised to wear disposable surgical masks when in crowded places such as shopping malls and elevators to reduce the risk of exposure to diseases. For those who stay at home or do outdoor or indoor exercises at well-ventilated and uncrowded places, there is no need to wear masks.
Third, the government coordinated and allocated masks and other medical supplies in a unified way. Masks and other medical supplies are strategic resources for epidemic prevention and control, guaranteeing the safety of front-line medical workers. To improve the efficiency of limited resources and ensure medical supplies in major regions and hospitals, local governments established leading groups responsible for guaranteeing supplies of materials. The needs of front-line medical workers were prioritized in the process of allocation of masks and other prevention materials.
Author: Hu Dengsheng, Center for International Knowledge on Development
Please feel free to contact us by sending your questions to question@chinadaily.com.cn or commenting on China Daily app. We will ask experts to answer them.