Why are the working hours of Chinese frontline nurses reduced from 6 to 4 hours?
It is important to note that the information provided in this Series is intended for your general knowledge only and is not a substitute for professional medical advice or treatment.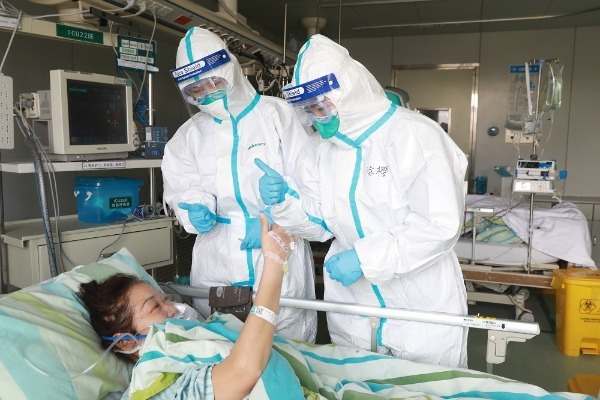 Working duration of Chinese frontline nurses gradually shortened from 6 hours in the early stage of the COVID-19 outbreak to 4 hours with slight difference among hospitals. There are four factors influencing the working duration of nurses.
The first is related to the adequacy of nurse staffing. Early in the outbreak, Hubei province, especially Wuhan city, saw explosive growth in cases. Designated hospitals were strained in capacity and nurse staffing was inadequate. With more than 40,000 medical staff from 346 medical teams across the country and the opening of 14 makeshift hospitals, nursing workload was reduced.
The second is related to the shortage of Personal Protective Equipment (PPE). Due to the extension of the Spring Festival holiday, PPE manufacturers had relatively limited production capacity. There were serious shortages of PPE throughout the country, especially in Wuhan. Moreover, it took about one hour to put on and take off PPE. For the sake of saving both equipment and time to diagnose and treat more patients, nurses worked 6 hours or even longer. In fact, working for 6 hours in heavy protective equipment is physically demanding. The protective effect may also decrease if the protective clothing is used for more than 4 hours. In addition, wearing PPE for a long time can easily cause condensation on protective goggles, facial indentations and even skin diseases, undermining the implementation of nursing tasks. As protective clothing supplies increased, the duration of nurses' work was shortened.
The third is related to work intensity. Nurses in ICU or infection departments usually have more workload than general nurses. Frontline nursing staff have even more workload and may not be able to handle pressure well. Generally speaking, nurses work 6 hours in makeshift hospitals, 5 hours in general wards, and 4 hours in ICUs.
The fourth is related to local transportation capacity. Assisting nursing staff lived together in designated hotels and were transported via shuttle buses. With the continuous improvement of transportation capacity, the frequency of shuttle buses increased. As a result, the working hours of each nurse could be reduced.
Authors:
Lin Weiwei
Dong Dandan,Center for International Knowledge on Development
Please feel free to contact us by sending your questions to question@chinadaily.com.cn or commenting on China Daily app. We will ask experts to answer them.