TCM helps seniors prosper in health battle
Share - WeChat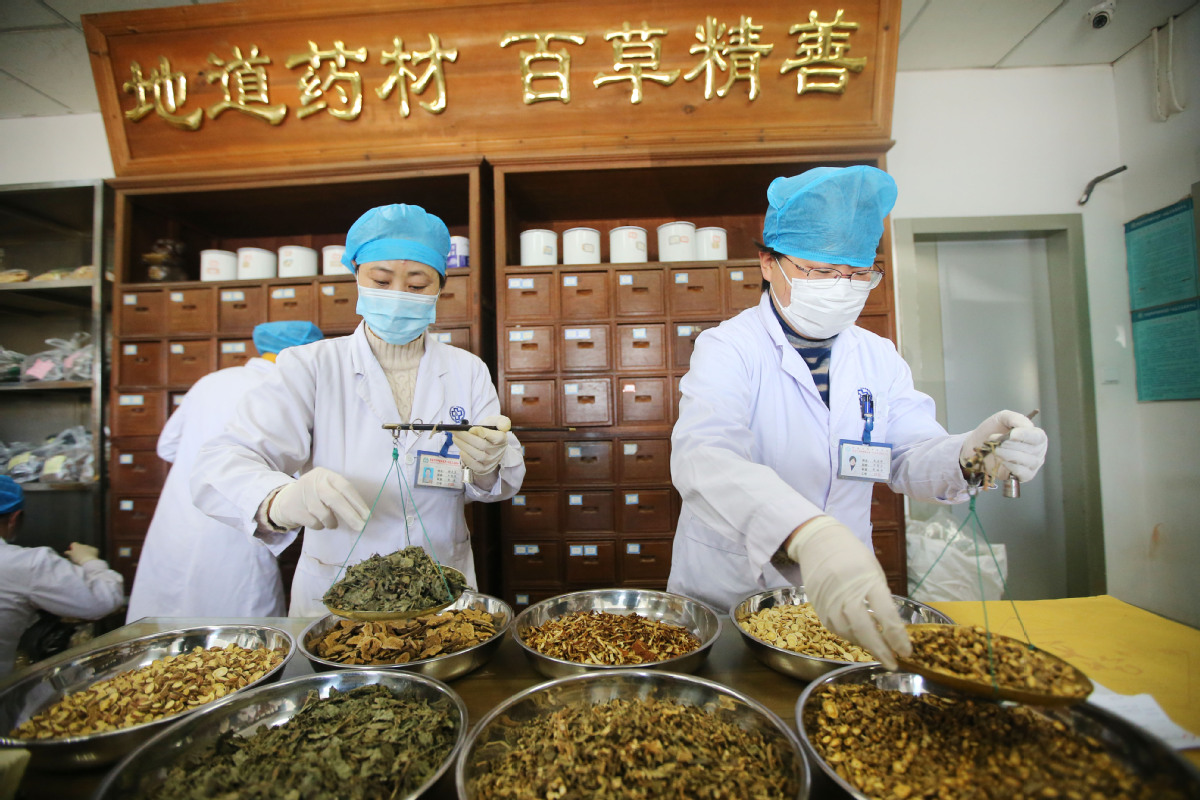 Practitioners of traditional Chinese medicine believe their ancient skill can play a major role in defeating the coronavirus pandemic.
As such, they have joined with universities and charities to distribute TCM packages to seniors, one of Hong Kong's most vulnerable communities.
Since February, the School of Chinese Medicine at Hong Kong Baptist University has been giving away TCM at its clinics and senior care facilities free of charge.
The specially prepared medication has a dual purpose; to fortify the immune system and raise people's spirits, prompting a sense of optimism and personal well-being.
The school does something similar every year during the flu season, when it donates medicines free of charge to people age 65 and older.
Bian Zhaoxiang, chair professor and director of the school's clinical division, said his team worked hard on the preparation, which is tailor-made to boost the immune system and induce an optimistic mindset.
In early February, Cheung Chanchu, 70, received one of the free packs from Lok Sin Tong, a charity that has provided free medication since its earliest days in the mid-1700s, when it also provided free burial services. It has gradually shifted focus and expanded its benefits to medicine, education, and welfare for seniors.
"It was the first time I had ever been given free TCM. The donation and free delivery were heartwarming," Cheung said.
She knows of many others who have picked up the university's TCM packages since Chinese New Year and she urged older friends and family members to get the medication, too.
"Thanks to the medicine, we older people are feeling optimistic and not panicking," Cheung said, adding that she was pleased to see ginseng listed as one of the ingredients. "It is a kind of precious Chinese medicine and good for the health."
She knows that TCM treatment is a gradual process that affects the body slowly, compared with Western medicine. She does not expect three doses of TCM to make her invulnerable to the coronavirus, but she does believe it will improve her immune system.
Cheung has visited local stores to buy the ingredients listed on the medicine's packaging, and is making her own medication in the belief it will make her stronger in the event she comes into contact with the disease.
Polly Seto Man-yee, from the Neighbourhood Elderly Centre in Tai Wo district which is run by Sheng Kung Hui, a foundation in Hong Kong, said many recipients have told her the medicine is not as bitter as some TCM and that the quality of their sleep has improved.
Henry Fong Yun-wah, chairman of the Fong Shu Fook Tong Foundation and Fong's Family Foundation, donated HK$100,000 ($13,000) to aid HKBU's charitable efforts, which has helped more people feel the benefits.
Fong's donation paid for more than 2,000 doses of TCM that were delivered to hospitals and senior community centers free of charge, helping more than 700 people.
"I deeply appreciate the kindness and philanthropy of Fong, who always cares for vulnerable groups and always maintains his enthusiasm for helping charities," Bian said.
"This donation will improve seniors' health and help reduce panic by boosting confidence in the fight against the coronavirus."
The TCM school estimates that more than 13,000 people have benefited from free medicines since this year's program started.
Improving the physical fitness of vulnerable people is an important mission of the school, Bian said, adding that TCM is a significant weapon in the fight against the virus because it improves the body's natural immunity.
TCM is as old as Chinese culture itself. Its theories place particular emphasis on the mind, especially the inborn vitality of the patient, he said.