How to use ventilators to effectively support severe or critically severe patients?
It is important to note that the information provided in this Series is intended for your general knowledge only and is not a substitute for professional medical advice or treatment.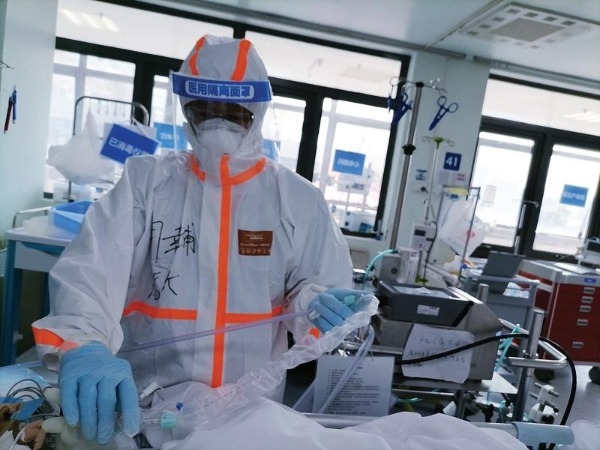 As of March 29, confirmed cases of the novel coronavirus pneumonia (NCP) have exceeded 660,000 globally. Many countries are now facing daunting shortages of lifesaving ventilators due to the pandemic. The Society of Critical Care Medicine (SCCM) estimated that about 960,000 NCP patients would require ventilatory support in the United States, while there are only about 200,000 ventilators currently. New York State has approved technology that allows two patients to share a single ventilator. To address the desperate needs of ventilators, many countries are making great efforts to expand production. Ventilators help restore patients' blood oxygen saturation, thus playing a vital role in the treatment of severe and critically severe NCP patients. However, China's experience indicates that the following points should be noted in the use of ventilators.
First, medical workers need to adjust ventilator parameters based on patients' physical conditions. In several anatomical studies, researchers have observed a large number of sticky secretions in lungs of death cases. These secretions prevent oxygen from entering alveoli, where gas exchange occurs, thus resulting in suffocation and death. Zhong Nanshan, head of the high-level expert group of the National Health Commission and academician of the Chinese Academy of Sciences, pointed out that the large number of viscous mucus in the small airways of severe cases obstructed airflow. That means the mucus plug may be pushed further if the ventilator pressure is too high. Therefore, it is necessary to evaluate patients' respiratory mechanics conditions and to adjust ventilator parameters accordingly.
Second, appropriate sputum cleansing methods should be adopted meanwhile. To enable the ventilators to effectively provide respiratory support, mucus must be diluted and removed to "open up" the airflow path. Practically, medical workers should provide respiratory support after helping patients with phlegm reduction, sputum suction and airway cleansing. For critically severe patients using tracheal intubation and invasive mechanical ventilation, their normal sputum discharge function is limited. In such cases, closed sputum suction should be considered, and bronchoscopy should be performed when necessary. In the process, medical workers must take good self-protection to prevent infection.
Last but not least, prone positioning is helpful for patients in mechanical ventilation. A recent observational study conducted in a 35-bed ICU at Wuhan Jinyintan Hospital found that some patients with severe Acute Respiratory Distress Syndrome (ARDS) did not respond well to high positive pressure, while their lung recruitability was improved in prone positioning. That is because tissues at the bottom of lungs collapse in supine positioning. In contrast, lung tissues face upwards and lungs expand in prone positioning due to respiratory mechanics, exerting positive effects on improving patients' oxygenation status. Therefore, for patients with severe ARDS, prone ventilation should be performed for more than 12 hours per day.
References:
1. Chun Pan, Lu Chen, Cong Lu, Wei Zhang, Jia-An Xia, Michael C Sklar, Bin Du, Laurent Brochard, Haibo Qiu. Lung Recruitability in SARS-CoV-2 Associated Acute Respiratory Distress Syndrome: A Single-center, Observational Study. American Journal of Respiratory and Critical Care Medicine, March 23, 2020.
2. National Health Commission, State Administration of Traditional Chinese Medicine. Diagnosis and Treatment Protocol for COVID-19 (Trial Version 7). http://www.nhc.gov.cn/yzygj/s7653p/202003/46c9294a7dfe4cef80dc7f5912eb1989.shtml
3. Qian Liu, Rongshuai Wang, Guoqiang Qu, Yunyun Wang, Pan Liu, Yingzhi Zhu, Geng Fei, Liang Ren, Yiwu Zhou, Liang Liu. Xinxing Guanzhuang Bingdu Feiyan Siwang Shiti Xitong Jiepou Dati Guancha Baogao. Journal of Forensic Medicine, Vol.36, 2020, Issue (1): 19-21. http://www.fyxzz.cn/CN/abstract/abstract23213.shtml
4. SCCM. United States Resource Availability for COVID-19, https://www.sccm.org/getattachment/Blog/March-2020/United-States-Resource-Availability-for-COVID-19/United-States-Resource-Availability-for-COVID-19.pdf?lang=en-US
5. https://www.thepaper.cn/newsDetail_forward_6252192
6. https://baijiahao.baidu.com/s?id=1659663275617031986&wfr=spider&for=pc
7. http://china.cnr.cn/yaowen/20200301/t20200301_524998333.shtml
8. https://3g.163.com/news/article_cambrian/F6M86KIH0514EGPO.html?isFromOtherWeb=true
9. https://m.thepaper.cn/newsDetail_forward_6367184
Authors:
Yu Lu, Assistant Research Fellow, Center for International Knowledge on Development
Dong Dandan, Head, Division of Operations,Center for International Knowledge on Development
Please feel free to contact us by sending your questions to question@chinadaily.com.cn or commenting on China Daily app. We will ask experts to answer them.