How to guarantee supplies of daily necessities for the solitary elders?
It is important to note that the information provided in this Series is intended for your general knowledge only and is not a substitute for professional medical advice or treatment.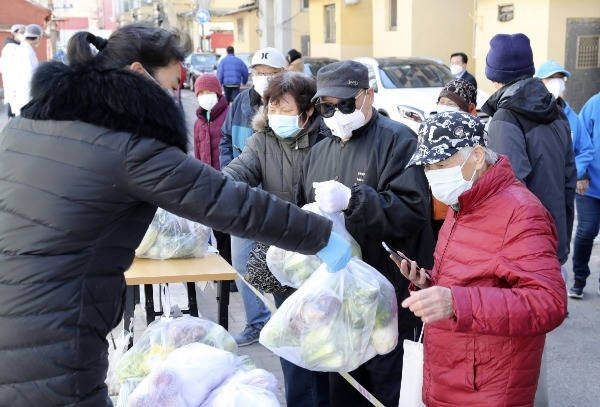 Solitary elders are vulnerable groups. They are aged, frail, susceptible and often troubled by mobility problems and lack of information. During the epidemic period, their children are unable to visit them due to the "closed-off management". Thus, these solitary elders might encounter shortages of basic living materials. The Ministry of Civil Affairs has paid special attention to this issue and made arrangement to provide care services for the disadvantaged groups accordingly. At grass-roots level, the following steps were taken to guarantee solitary elders' daily necessity supplies.
The first step was to identify the solitary elders and collect their information. Community workers made on-site visits to or phone calls with the solitary elders to understand their preparedness and responses, guardianship, personal needs and physical conditions. Such information was registered, filed, and regularly updated.
The second step was to expand workforce. In early days of the epidemic prevention and control, many communities faced shortage of manpower because of the heavy workload. Under this circumstance, public servants were designated as representatives to look after the disadvantaged households and help solve their problems. Among them, guaranteeing the solitary elders' daily necessity supplies is an important part. Residents and staffs of property companies and social organizations also served as volunteers to provide care services.
The last step was to help purchase and deliver living materials. Community workers, public servants and volunteers needed to keep in touch with the solitary elders or their children and help purchase rice, oil, meat, vegetables and other necessities as needed at supermarkets nearby. These goods were then delivered to each household. Materials could also be mobilized through online and offline solicitations when nearby supermarkets were closed or when some specific needs could not be met.
During the epidemic prevention and control period, offspring's role in taking care of solitary elders is weakened to some extent. China's grid-based management in communities has shown great advantage in quickly identifying solitary elders and clarifying local officials' responsibilities. Community workers were the executors and fighters in the frontline; public servants timely shared the laborious tasks in this process; many volunteers provided care services out of China's tradition of helping each other and respecting the elderly. Through such joint efforts, solitary elders' daily necessity supplies were guaranteed.
Author: Yu Lu
Please feel free to contact us by sending your questions to question@chinadaily.com.cn or commenting on China Daily app. We will ask experts to answer them.