What is the proportion of asymptomatic carriers in China?
It is important to note that the information provided in this Series is intended for your general knowledge only and is not a substitute for professional medical advice or treatment.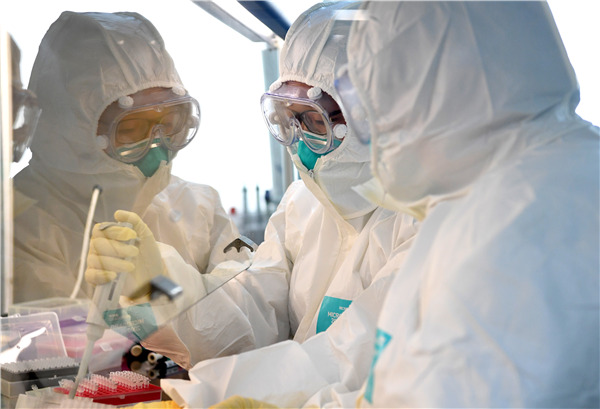 Asymptomatic carriers are those who demonstrate no clinical symptoms like cough or fever but test positive for COVID-19. On January 28, the Chinese National Health Commission (NHC) provided its first official definition on asymptomatic carriers in itsProtocol on Prevention and Control of Novel Coronavirus Pneumonia (Edition 3).
Asymptomatic carriers are also contagious, posing challenges to the epidemic prevention and control. Chinese Premier Li Keqiang called for high attention to asymptomatic carriers at a meeting of the leading group on novel coronavirus prevention and control on March 26. According to the NHC, 1,541 asymptomatic carriers in China had been under medical observation and 205 of them were imported cases as of March 30.
The first asymptomatic case was documented in a paper published in The Lancet by scholars from the University of Hong Kong on January 24. A 10-year-old boy and four of his family members tested positive for COVID-19 after returning to Hong Kong from Wuhan. The boy was an asymptomatic carrier. Mainland China reported the first asymptomatic case on January 27. The carrier infected five of her family members, among whom two developed into severe cases while the carrier herself showed no symptoms.
Existing studies show that the proportion of asymptomatic carriers is around 20-60 percent. Between January 29 and 31, Japan evacuated 565 Japanese nationals from Wuhan. Among them, 8 were infected, of which 4 had no symptoms. The asymptomatic proportion was estimated to be between 37.5-50 percent. On March 6, an article, without peer review, concluded that the share of asymptomatic cases was 17.9 percent from the data of passengers aboard the Diamond Princess cruise ship. On March 25, another study analyzing 115 infected children found that the share was 53 percent. On March 20, an article in The Nature argued that 30-60 percent of all cases showed no or mild symptoms.
There are four approaches to identify asymptomatic carriers in mainland China: (1) proactively testing close contacts during their medical observation period; (2) proactively testing people during investigation of infection clusters; (3) proactively testing those who have been exposed to the virus during infection source tracing; (4) proactively testing those who have travelled to or resided in regions with ongoing COVID-19 transmission. Based on these, agencies for disease control at all levels provided their estimates on the proportion of asymptomatic cases. On February 17, analysis from the Chinese Center for Disease Control and Prevention (CDC) based on 72,314 cases showed that asymptomatic cases totaled 889, accounting for just 1.2% of all cases. Local CDCs also calculated the proportion of asymptomatic cases based on data in mid and late February in their respective jurisdictions. Among them, Guizhou Province disclosed the highest proportion. By February 16, Guizhou had reported 18 asymptomatic carriers in 114 confirmed cases, accounting for 11.11 percent. By February 20, Zhejiang Province had reported 1,284 cases in total, with 108 asymptomatic ones, accounting for 8.41 percent. By February 21, 4 of 135 cases in Tianjin had demonstrated no symptoms, accounting for 3 percent. In contrast, Fujian Province reported the lowest share of asymptomatic carriers, with only 1.01 percent.
In an interview, Academician Zhong Nanshan argued that since the number of newly confirmed cases is decreasing in China, the number of asymptomatic carriers should be limited. Otherwise, the number of newly confirmed cases would have been pushed higher due to "silent" transmission.
In response to the challenges posed by asymptomatic carriers, Chinese Premier Li Keqiang underlined the importance of prioritizing the monitoring, tracking, isolation and treatment of asymptomatic carriers. China will scale up screening of asymptomatic carriers of COVID-19 and conduct research and epidemiological analysis through gathering a certain percentage of asymptomatic samples from the hard-hit areas, so as to improve prevention and control measures.
References:
[1] 高文静, 李立明,新型冠状病毒肺炎潜伏期或隐性感染者传播研究进展,中华流行病学杂志, 2020, 41(4): 485-488,http://html.rhhz.net/zhlxbx/018.htm
[2] 中国疾病预防控制中心新型冠状病毒肺炎应急响应机制流行病学组,新型冠状病毒肺炎流行病学特征分析[J],中华流行病学杂志, 2020, 41(2): 145-151.
[3] 特别报道:防守无症状感染,财新杂志,2020年3月30日,http://weekly.caixin.com/2020-03-28/101535222.html?p0#page2
Author: Liang Xiaomin
Translator: Zhou Yu
Please feel free to contact us by sending your questions to question@chinadaily.com.cn or commenting on China Daily app. We will ask experts to answer them.