What prevention and control measures have restaurants taken after resuming operation?
It is important to note that the information provided in this Series is intended for your general knowledge only and is not a substitute for professional medical advice or treatment.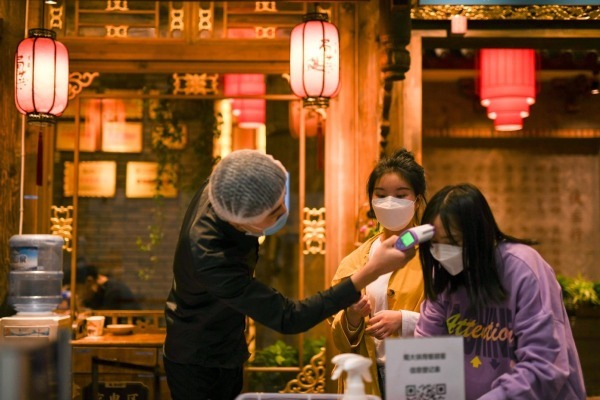 China started to take consolidated and coordinated economic recovery measures as the COVID-19 outbreak is being contained. Different regions adopted different approaches per the risk assessment. For example, while low-risk areas are restoring normal work and life, medium-risk regions are encouraged to resume work and production in a gradual and orderly manner. Different sectors also differ from each other in prevention and control measures. The following are what restaurants in China are taking after resuming operation.
First, to reinforce employee management. Measures include collecting health information of employees comprehensively and routinely, increasing employees' self-protection awareness, asking employees to avoid public transportation on the way to and from work, requiring employees to wear masks all the time during work, and conducting professional training for employees responsible for disinfection and temperature monitoring.
Second, to strengthen disinfection measures in restaurants. Strict disinfection procedures and standards are set in each region. For frequently touched surfaces such as elevator buttons, doorknobs and chairs, disinfection measures are reinforced. Special attention is also paid to tableware disinfection and any system that circulates air.
Third, to set rules for dining. Takeaway and "contactless delivery" are encouraged. Customers are required to check their body temperature and provide contact information before entry, which enables easier information tracking in case of infection risks. The upper limit of seat occupancy rate is 50%. Customers need to be seated with a safe distance of at least one meter. Tables must be fully disinfected before accommodating the next guest. Restaurants should avoid lines and adopt appointment systems.
Fourth, to prepare prevention and control supplies such as temperature detectors, disinfectant and masks for business resumption. Frontline employees should be prioritized in distribution.
Author:Liang Xiaomin
Please feel free to contact us by sending your questions to question@chinadaily.com.cn or commenting on China Daily app. We will ask experts to answer them.