How did China address medical supply shortages?
It is important to note that the information provided in this Series is intended for your general knowledge only and is not a substitute for professional medical advice or treatment.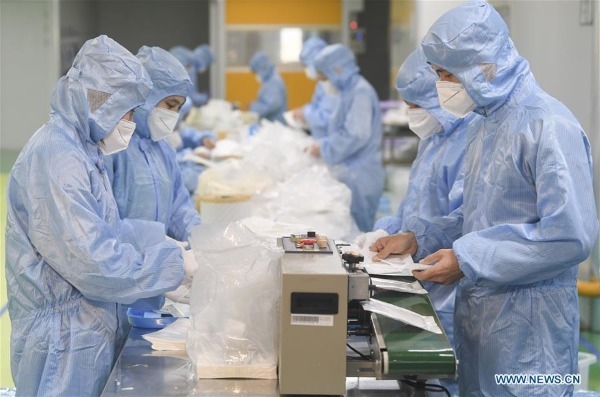 The COVID-19 outbreak coincides with the Spring Festival holiday in China. Factories were closed and workers went home for holidays. Medical supplies were in serious shortage. Through full cooperation of relevant government departments and manufacturers and by taking advantage of the relevantly complete industrial chain system, China successfully reversed the unfavorable situation of medical supply shortages.
According to the Chinese Ministry of Industry and Information Technology (MIIT), within one month, the daily output of N95 masks and protective suits had increased from 200,000 to 600,000 and from 20,000 to 500,000 respectively. The production capacity of other medical equipment such as ambulances has also been greatly improved.
Here are some measures that China has taken to address medical supply shortage.
First, medical material producing companies are urged to resume work ahead of schedule and expand their production capacity through technology upgrading.
Second, non-medical companies are encouraged to switch up their production lines. Non-medical equipment manufacturers are engaged in conducting independent research and development or purchasing of new production lines to make urgently needed medical supplies. Automakers such as SAIC-GM-Wuling and BYD, and manufacturing companies in apparel, food, cable, and others restructured their production capacity to ensure full supply of face masks.
Third, the entire industrial chain is operating in a coordinated manner. Upstream enterprises were making an all-out effort to supply raw materials. The manufacturers themselves and relevant government authorities communicated in a timely manner to resolve issues regarding equipment and raw material supplies.
Fourth, local authorities and financial institutions provided support. Different local authorities urgently organized training for unskilled employees from other enterprises to overcome labor shortage. Financial institutions established special channels to address funding constraints.
In the process, relevant government authorities continued to roll out policies and measures, including launching the national material platform, sending working groups to key enterprises, connecting the export standards with Chinese ones, and promising to buy back redundant stocks. Such measures helped efficiently mobilize resources and guarantee interests of manufacturing companies.
Author:Xu Puheyan
Please feel free to contact us by sending your questions to question@chinadaily.com.cn or commenting on China Daily app. We will ask experts to answer them.