Why is it difficult to identify the intermediate host(s) of COVID-19 virus?
It is important to note that the information provided in this Series is intended for your general knowledge only and is not a substitute for professional medical advice or treatment.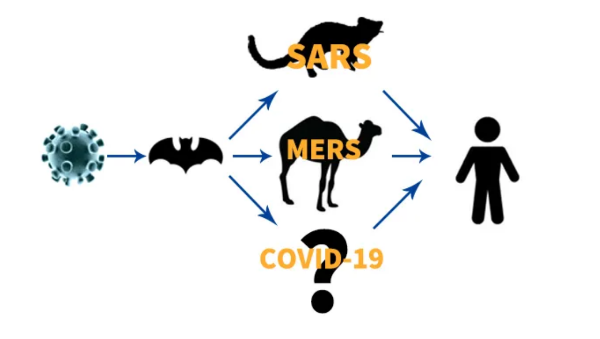 A virus, as a non-cellular microorganism, can only survive and replicate itself in living cells of other organisms. Such organisms can generally be categorized into reservoir, intermediate host and final host basing on virus' transmission routes. The report of WHO-China Joint Mission on Coronavirus Disease 2019 (COVID-19) states that the virus that caused COVID-19 is zoonotic and that bats appear to be the reservoir and human is the final host. However, there are still many difficulties in identifying intermediate host(s).
First, there is no direct evidence for source tracing. China found an infection source from Wuhan Huanan Wholesale Seafood Market in the early stage of the outbreak. On January 26, the Chinese Center for Disease Control and Prevention (CCDC), based on its analysis of the samples taken from the seafood market, reported that the virus appears to diffuse from wildlife species sold at the market. However, the market had been shut down and cleaned up from January 1 and the surveillance video record was no longer available. Therefore, it is difficult to uncover the species. On January 29, a paper published by CCDC in The New England Journal of Medicine stated that the earliest cases had no reported link to the seafood market, and thus the possibility of other sources could not be ruled out. In short, the lack of animal contact evidence in the early cases makes it difficult to identify the intermediate host(s) directly.
Second, large-scale screening of wildlife is time consuming. In the absence of direct evidence, the most feasible approach is to screen wild animals on a large scale. Since the outbreak of COVID-19, several research teams have pointed out that mink, pangolin, and tortoises may be the intermediate hosts . However, all animals are suspicious in theory, so the number of samples to be analyzed is very large, which makes the work impossible to complete in a short time.
Author: Chen Zheng
Please feel free to contact us by sending your questions to question@chinadaily.com.cn or commenting on China Daily app. We will ask experts to answer them.