How do Wuhan citizens address daily life needs?
It is important to note that the information provided in this Series is intended for your general knowledge only and is not a substitute for professional medical advice or treatment.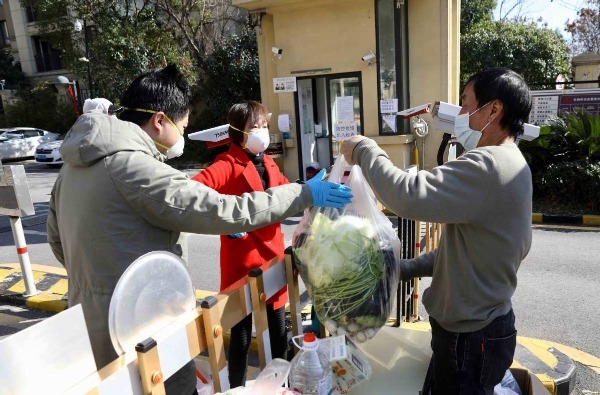 All residential communities in Wuhan are completely locked down amid the epidemic of novel coronavirus pneumonia. Safeguarding people's daily life needs is an important part of epidemic prevention and control in Wuhan and Hubei.
To ensure supplies of daily necessities for Wuhan residents, relevant authorities have taken various measures. For example, the Ministry of Commerce established a cooperation mechanism among nine provinces and cities to provide joint guarantee and supply of life essentials to Hubei province. From January 23 to February 19, eight provinces and cities transported 21,000 tons of vegetables and fruits to Hubei. The Ministry of Agriculture and Rural Affairs launched the daily price reporting system of "vegetable basket" products, and organized and coordinated major vegetable-producing areas including Guangxi, Hainan, Shandong, Hebei etc., to establish a "one-to-one" mechanism with Wuhan and other epidemic-stricken cities in Hubei.
Meanwhile, Wuhan city mobilized all supermarkets to adopt community group purchase and centralized distribution and set up delivery points at each control checkpoint to ensure that goods could be delivered to Wuhan residents as early as possible. The needs of residents for living materials and medicines are met through innovative ways of group purchase, collective purchase, online platform, and community Fresh Express. Community property management companies, government cadres and volunteer groups are responsible for delivering such materials and medicines to the doors of the residents. For the extremely poor, the elderly living alone, the disabled and the left-behind children, communities also arranges special personnel to deliver meals and medicines to ensure their safety during the lockdown period.
Author: Hu Dengsheng
Please feel free to contact us by sending your questions to question@chinadaily.com.cn or commenting on China Daily app. We will ask experts to answer them.