What have community workers done to combat COVID-19?
It is important to note that the information provided in this Series is intended for your general knowledge only and is not a substitute for professional medical advice or treatment.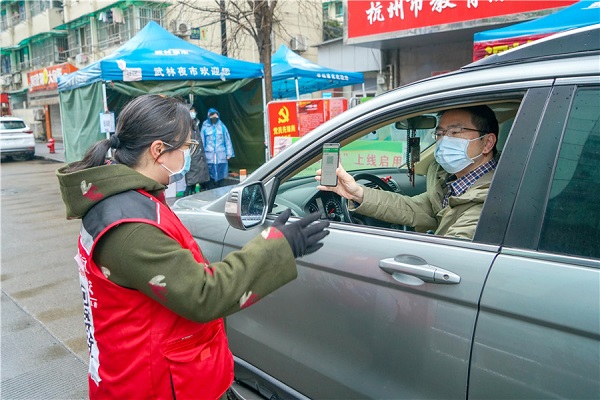 Community is the basic unit in Chinese social life. As the executors of China's measures for prevention and control of the COVID-19 at the grass-roots level, community workers have played a vital role in cutting off the virus transmission and curbing the spread of the epidemic by undertaking the following tasks.
First, community workers coordinate hospital beds for confirmed patients based on availability information provided by the street-level institutions. This ensures that all confirmed cases could be timely accepted and treated.
Second, community workers are responsible for screening and tracking residents and implementing isolation measures as needed in communities. Residents are screened one by one. Key targeted groups are urged to stay at home for 14 days for medical observation, whose physical conditions are closely monitored by community workers. Once suspected symptoms such as fever occur, community workers need to immediately send these people to fever clinics for diagnosis and require all the close contacts to isolate for medical observations.
Third, community workers are responsible for information collection. A person is designated to collect and sort out daily community epidemic information, covering key population groups, residents' complaints and suggestions, as well as other new issues in the community. Such information is released to local public and reported to the upper-level government.
Fourth, community workers need to publicize and popularize epidemic prevention and control knowledge among residents. Both online and offline methods are adopted to spread such information as "less going out, no mass gatherings, frequently washing hands, ventilating, wearing a mask when going out". Online methods include WeChat groups, public accounts, QQ groups and other information platforms; offline ones include publicity columns, banners, community radio, loudspeakers and other traditional media.
Fifth, community workers need to manage sanitation and safety issues. They are responsible for daily sanitation and disinfection of public areas and public facilities such as elevators, corridors, and waste sorting points. They need to be on duty at the checkpoints in the community to register and measure temperature of entrants, help close the non-essential, easy-to-gather places such as chess and card rooms, as well as control the flow of people and prevent gatherings in accessible places such as supermarkets and pharmacies.
Sixth, community workers need to purchase goods and provide caring services for the disadvantaged groups and isolated people. They help provide such goods as food, vegetables, meat, eggs and other necessities and medicines, and help apply for social assistance when needed.
Last but not least, community workers also provide other services based on residents' needs, such as haircuts, repairing, psychological counseling and emotional comfort.
In short, community workers, by connecting themselves with every family and every individual, solve the "last-mile problem" in epidemic prevention and control.
Author: Yu Lu
Please feel free to contact us by sending your questions to question@chinadaily.com.cn or commenting on China Daily app. We will ask experts to answer them.