PUMCH Prevention and Control Manual of COVID-19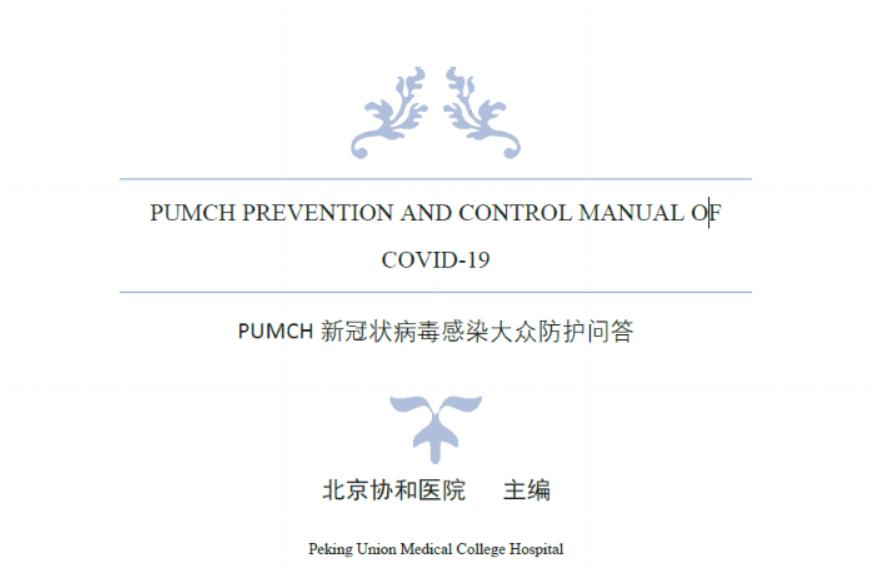 Released in February 2020, the manual for preventing and controlling novel coronavirus pneumonia (COVID-19) was compiled by Peking Union Medical College Hospital, one of China's most prominent hospitals.
It offers encyclopedic Chinese-English bilingual guidance to familiarize the public with the new coronavirus that causes COVID-19, a highly infectious respiratory disease. It traces the virus' transmission routes, and discusses self-protection measures that individuals in both private and public venues can take.
Written in a Q&A form, the manual arranges questions of public concerns in 11 chapters, providing clear and practical advice, suggestions, and scientific explanations to targeted groups, including healthy people, people with diseases that needs regular medical treatments, confirmed COVID-19 patients, pregnant and post-natal women, infants and children, and older people. Questions concerning public welfare and legal issues are also addressed. The last chapter is dedicated to easing people's emotional stress amid the pandemic.
Please click here to download the manual in PDF format.
Please feel free to contact us by sending your questions to question@chinadaily.com.cn or commenting on China Daily app. We will ask experts to answer them.