Why makeshift hospitals are built to fight the COVID-19?
It is important to note that the information provided in this Series is intended for your general knowledge only and is not a substitute for professional medical advice or treatment.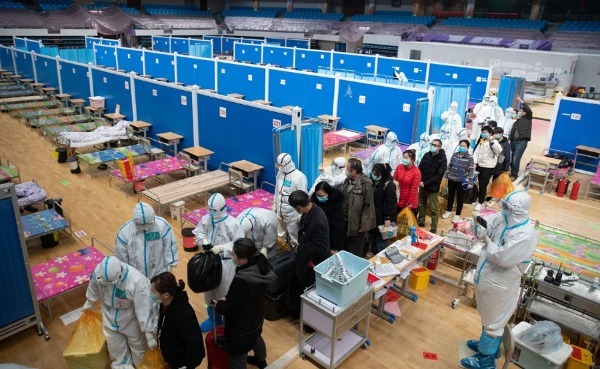 Makeshift hospitals are mobile medical spaces, generally composed of medical functional units, ward units, technical support units and other parts, with emergency treatment, surgical treatment, clinical testing and other functions.
The original intention of building makeshift hospitals is to accommodate and treat patients with mild symptoms. 80-85 percent of COVID-19 patients experience mild symptoms. Most of them can recover spontaneously or avoid worsening with some standardized medical care. The concentration and isolation of these mild patients who have accumulated at homes, communities and society play a crucial role in controlling the spread of the epidemic. In the context that the capacity of the designated hospitals is limited and difficult to meet the requirements, the makeshift hospitals have the features of large capacity, fast construction speed and low cost. Although the medical conditions are not as good as those in the designated hospitals, it includes mobile clinics, operating rooms, and laboratories, which are enough to treat patients with mild symptoms. Therefore, beds in designated hospitals can be freed up for the treatment of more severe patients.
Makeshift hospitals have played three basic functions in the treatment of mild patients. The first is the isolation effect. Further spread of the epidemic can be prevented by treating patients in isolation place and cutting off transmission caused by family and social contact. The second is the therapeutic effect. Makeshift hospitals can offer medical care in accordance with the rules and characteristics of the disease to mild patients, so as to prevent the deterioration of mild diseases as far as possible. The third is the monitoring effect. Makeshift hospitals can discover the situation when patients' condition aggravates and immediately transfer patients to designated hospitals for intensive medical treatment.
Makeshift hospitals have taken various measures to prevent cross-infection. These hospitals follow strict functional divisions. Patients in the makeshift hospitals were infected with the same virus, therefore, there was no cross-infection risk between patients. To avoid possible influenza cross-infection, hospitals required all patients to be tested for influenza before admission. If it was influenza, they cannot be admitted. Hospitals stipulated that patients must wear masks for isolation. The staff carried out comprehensive protection in the wards. Through the above measures, makeshift hospitals are not weaker than the normal hospital in terms of prevention of nosocomial infection.
On March 10, 2020, Wuhan makeshift hospitals suspended after 35 days of operation. More than 12,000 patients have been cured in 16 such facilities, effectively solving the problem of accommodation and treatment. Makeshift hospitals played a key role in reversing the once extremely passive situation of prevention and control of the epidemic.
Note: some contents refer to the interview with Xinhua News Agency reporter by Academician Wang Chen, vice president of Chinese Academy of Engineering.
Author:Zhang Liang
Please feel free to contact us by sending your questions to question@chinadaily.com.cn or commenting on China Daily app. We will ask experts to answer them.