Shanghai medical expert shares COVID-19 experience to overseas peers during live broadcast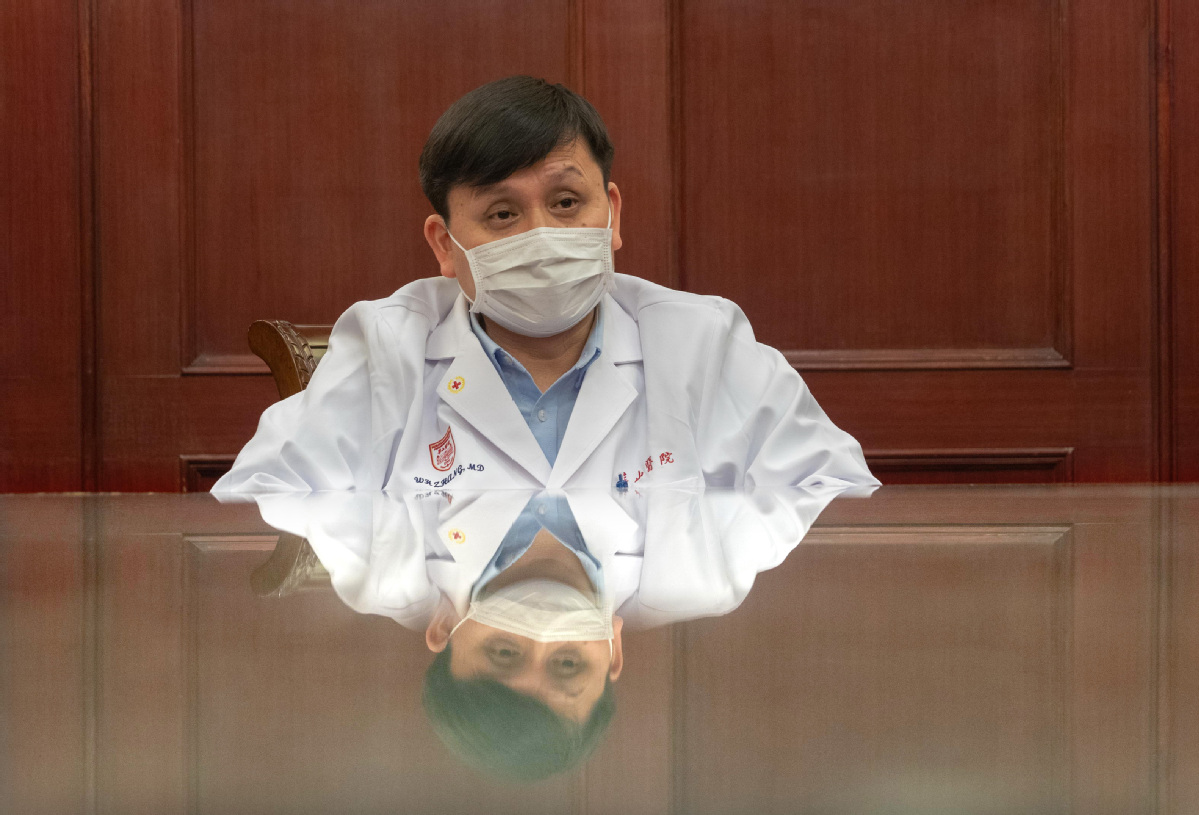 Zhang Wenhong, leader of the Shanghai team of experts in the treatment of COVID-19 cases, appeared on a live broadcast on Wednesday morning Beijing time.
During the broadcast, Zhang – he is also the director of the department of infectious diseases at Shanghai Huashan Hospital Affiliated with Fudan University - shared clinical treatment and research experiences from Shanghai and China with more than 10,000 overseas doctors before answering their queries.
The following is an excerpt from his speech:
ARDS, or acute respiratory distress syndrome, is common among patients who are in severe and critical conditions. It is critical that these patients receive oxygen.
The mortality rate of such patients in Wuhan, the epicenter, is 57 percent, compared to 23 percent in Shanghai. One advantage Shanghai has is adequate mechanical ventilation support, both non-invasive and invasive, for such patients. Such support has helped to prevent a patient's condition from deteriorating from severe to critical.
So far, the overall mortality rate of COVID-19 cases in all affected countries is between 3 and 4 percent, whereas the rate in Shanghai is less than 1 percent.
The following are questions asked during the live broadcast:
Q: What is the time frame between infection and testing positive for the virus?
A: The PCR test for the virus is the gold standard. A person is likely to test positive for the virus using such a test after being infected for two to three days.
Q: For the general public, what are the criteria to request a test for the virus?
A: Shanghai has mandated the test for inbound travelers, including those who have lived or traveled to 24 countries currently severely affected by the pandemic, those who have come into close contact with confirmed cases and those running a fever and have obvious symptoms of respiratory disease and diarrhea.
In China, most people were infected through close contact with family members, and I haven't seen a single case of infection in an elevator where there was a COVID-19 patient (since almost everyone in China has been wearing masks since the outbreak in the country in January).
Q: For people undergoing the 14-day quarantine, is there any need for the test? If yes, what should be the frequency?
A: If they don't show any symptoms of the disease, including fever, cough and fatigue, we don't regard them as suspected cases. In Shanghai, we don't perform this test for them.
Q: Have you observed any attenuation in the infectivity or pathogenicity of the novel coronavirus?
A: No, but the global pandemic will definitely slow down in the upcoming summer. The United States has started to take actions against the virus' spread, and this too will help with the slowdown.
The next two to three months will be critical for the world to jointly combat the spread of the virus. In Shanghai, we have in the past two months implemented really strict and serious measures to curb the virus' spread.
However, I don't think the virus will be eliminated within this year. There might be a rebound this winter and this is hard to predict.
Q: How common is it for healthcare workers to be infected with the virus? How important is it for a medical worker to cover his head, neck and feet when treating COVID-19 patients?
In China, there were doctors and nurses in Wuhan infected with the virus in the very beginning when there was a lack in personal protective equipment. But after medical workers were provided with adequate protective gears, I haven't seen staff at the designated COVID-19 hospital in Shanghai and those dispatched to Hubei province getting infected.
It's important for frontline medical workers to be covered with protective wear from head to toe, the most important part being their heads.
Doctors and nurses in Shanghai have also been provided with positive pressure masks, especially when they perform short-distance medical operations for patients as this poses a threat of infection through aerosol transmission.
Apart from protective equipment, it is also important to comply with a standard procedure to avoid infection in hospitals.
We also have negative pressure wards in Shanghai and carry out disinfection every four hours.
Q: Is there a need to routinely test healthcare workers who are exposed to the COVID-19 patients?
A: If they comply with standard personal protection measures and have no symptoms of the disease, there is no need to.
Q: In the United States, healthcare workers go home after work. What measures need to be taken to prevent spreading the virus to their families?
A: At the Children's Hospital of Fudan University, where child COVID-19 patients are treated in Shanghai, doctors and nurses go home after work as well. In addition to adequate and standard personal protection measures at the hospital, they also clean their faces, especially the nose and mouth, after arriving home. They live with families but eat separately.
Q: What is the procedure to discharge COVID-19 patients who have recovered from the disease?
A: In Shanghai, patients are discharged if they test negative for the virus twice. Following this, they must isolate themselves at home for 14 days. We have not had cases of the virus coming back in recovered patients in Shanghai.
Please feel free to contact us by sending your questions to question@chinadaily.com.cn or commenting on China Daily app. We will ask experts to answer them.