What you need to know about the COVID-19 fatality rate?
It is important to note that the information provided in this Series is intended for your general knowledge only and is not a substitute for professional medical advice or treatment.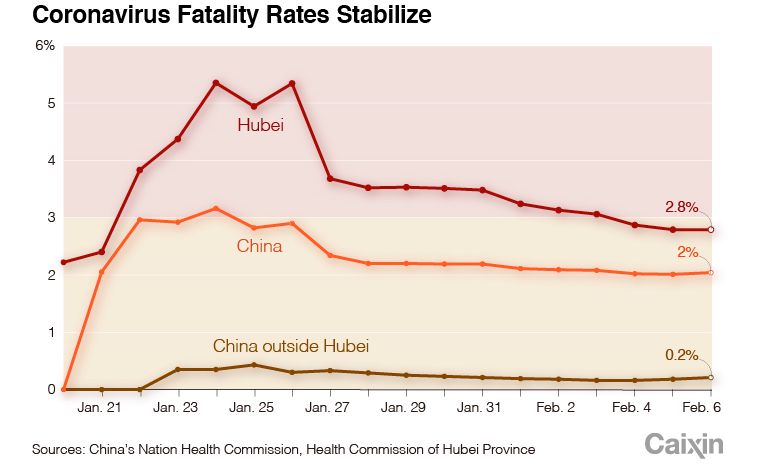 As of 9 March 2020, 49,965 cases of novel coronavirus infection had been confirmed in Wuhan, of which 2,404 cases resulted in deaths – the fatality rate of COVID-19 in Wuhan is 4.8%. In other regions of Hubei province except Wuhan, there had been 17,795 confirmed cases, and 620 patient deaths, with a fatality rate of 3.5%. While in all of Chinese mainland (i.e. data of Hong Kong, Macao, and Taiwan excluded) aside from Hubei, 12,994 confirmed cases were found, causing 112 deaths and a fatality rate of 0.86%.
Apparently, there is a considerable gap in fatality rates of COVID-19 in different parts of China. Consequently, with different data used, the discussion about the risk of the novel coronavirus would lead to drastically different conclusions.
The fatality rate, and the variance thereof, however, is not only an indicator of the pathogenicity of the virus, but also depends on the age structure and preexisting health conditions of those infected, the operation of the healthcare system in different times and locations, and the accessibility of testing as well as the time when fatality rate is calculated.
Firstly, the age structure and the underlying health conditions of the patients are important factors behind the fatality rate. A research by the Chinese Center for Disease Control and Prevention (CCDC) on more than 70,000 confirmed and suspected cases of COVID-19 as of 11 February found a general fatality rate of 2.3%, while the fatality rate for patients over 80 years old being 14.8%, 10.5% for patients with cardiovascular diseases, 0.2% for patients between 20-30 years old, and 0.9% for patients without underlying disease. Preventing novel coronavirus infection among high-risk groups, therefore, would significantly reduce the fatality rate of COVID-19. Important preventative measures include protection of elderly people from infection in hospitals and assisted living facilities, where susceptible groups are highly concentrated, as well as at home settings in the community.
Because of widespread community transmission in Wuhan, the elderly makes up 5% of the cases of infection, while in all of China including Wuhan, the number is only 3.2%. The timely detection and isolation of new cases outside Wuhan effectively prevented the epidemic from spreading from the more socially active young and middle-aged groups to the elderly and contributed to the lower fatality rate in general.
Please feel free to contact us by sending your questions to question@chinadaily.com.cn or commenting on China Daily app. We will ask experts to answer them.