Countries told to learn from China in virus fight
As the daily increase in novel coronavirus cases outside China has greatly surpassed that inside China, Bruce Aylward, assistant director-general of the World Health Organization, emphasized that speed is the "single biggest message" that the rest of the world should take away from China.
"You have to find the cases quickly, and you have to get them isolated, and their close contacts quarantined, to be able to break this disease," he told China Daily during an exclusive interview on Friday. "That was the first big message — speed, speed, speed."
The virus has infected over 100,000 people in more than 100 countries, of which more than 21,000 are outside China, according to the WHO. As of Saturday, 3,735 new cases were reported from different countries and territories, of which five reported their first confirmed case.
South Korea, Iran and Italy are among countries that are most severely hit outside China.
Aylward, who headed the WHO-China Joint Mission on COVID-19 and visited Wuhan, epicenter of the outbreak in China, described China as "the first line of defense for international spread of this virus". He highly praised the country's fundamental control measures, especially placing a lockdown on Wuhan to prevent the further spread of the virus.
Although the rest of the world was not ready for the outbreak during the "window" China created for them, it's never too late to get this under control, Aylward said.
"I've been sharing with Iran and with Italy over the last few days (that) ... you can slow down the virus. And every step you take to try and reduce the number of cases, the intensity of transmission, that's going to translate into fewer cases, and people and lives saved," he explained.
In a statement on Saturday, the WHO called on all countries to continue efforts that have been effective in limiting the number of cases and slowing the spread of the virus.
"Allowing uncontrolled spread should not be a choice of any government, as it will harm not only the citizens of that country but affect other countries as well," it said.
Italy announced a sweeping quarantine early on Sunday, restricting the movements of about a quarter of its population in a bid to limit the contagions and end the virus's advance at the epicenter of Europe's outbreak.
In Iran, "tremendous progress" has been made at hospitals in every province, with facilities made available for the treatment of COVID-19 patients, the WHO's representative in Iran, Christoph Hamelmann, told reporters at a news conference in Teheran on Saturday.
Another suggestion Aylward has given to countries facing the challenge of the outbreak is to educate their population really well about what the symptoms and signs are and make it easy to get tested.
"This is a disease you have to worry about. It is not a flu virus. It's a coronavirus. … And this virus has already told us it can kill," he said, adding that it can kill not only older people or people who already have diseases, but also young people.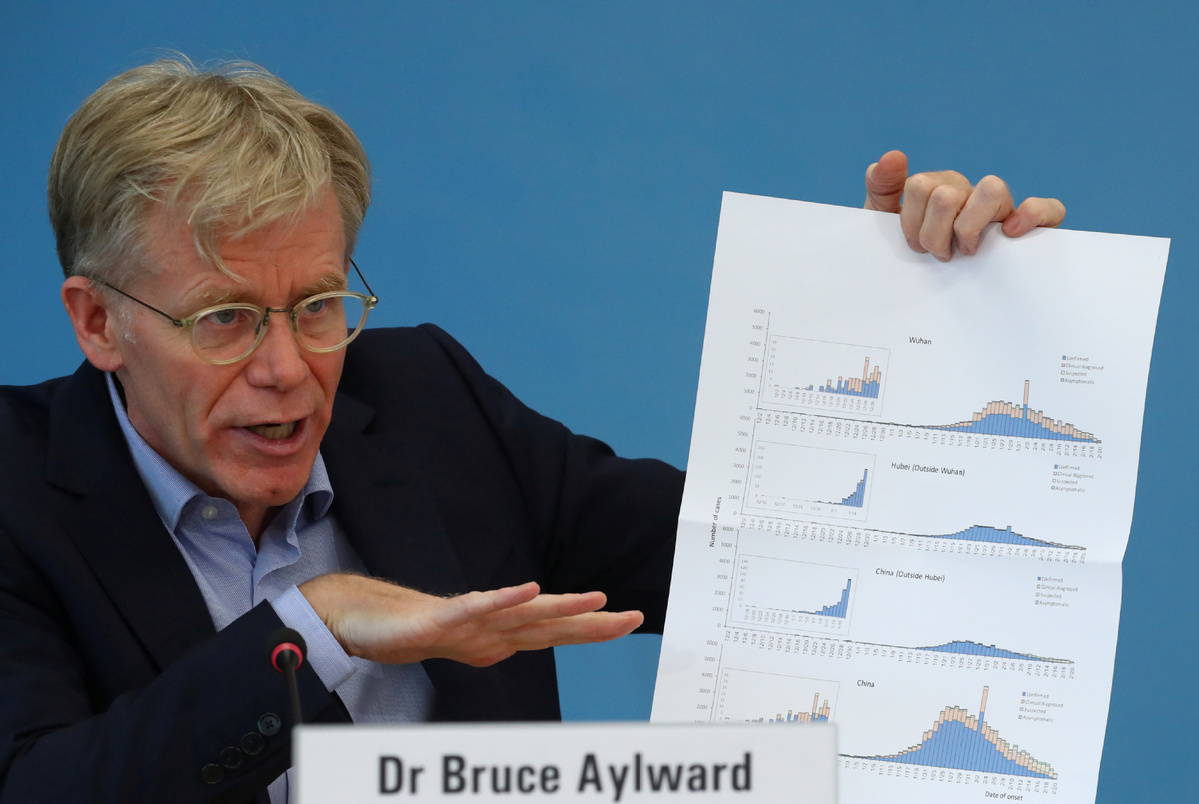 Aylward expressed his concerns over the fact that doctors still don't know what is really going on in terms of the young cases.
"People have to know the seriousness of this," he said, noting that the population is the surveillance system of a country.
Aylward and his mission were in China for two weeks in early February. "When I was in China, I was so impressed by the people of China," he said.
"There was a sense of societal responsibility and sense of duty to play your part, and it was a striking and very, very special thing about China, and something that really touched me," he added.
Meanwhile, China announced on Saturday it would contribute $20 million to the WHO in combating the COVID-19 epidemic and helping developing countries improve their response capacities and public health systems.
Chen Xu, China's permanent representative to the United Nations Office in Geneva, said that epidemic prevention and control in China is achieving steady progress and positive developments, which have protected the lives and health of its people as well as made a great contribution to the global public health security.
China is willing to participate in international cooperation in COVID-19 prevention and control with concrete actions, to support the WHO's professional and coordination role, and to help developing countries with vulnerable public health systems effectively respond to the epidemic, Chen said.
Tedros Adhanom Ghebreyesus, director-general of the WHO, expressed his gratitude and appreciation to the Chinese government for its generosity by extending a helping hand to other developing countries.
Liu Xuan in Beijing contributed to this story.
Please feel free to contact us by sending your questions to question@chinadaily.com.cn or commenting on China Daily app. We will ask experts to answer them.