Vaccine to undergo 3rd phase of trials
To play the audio normally, please use an IE9 or higher edition browser.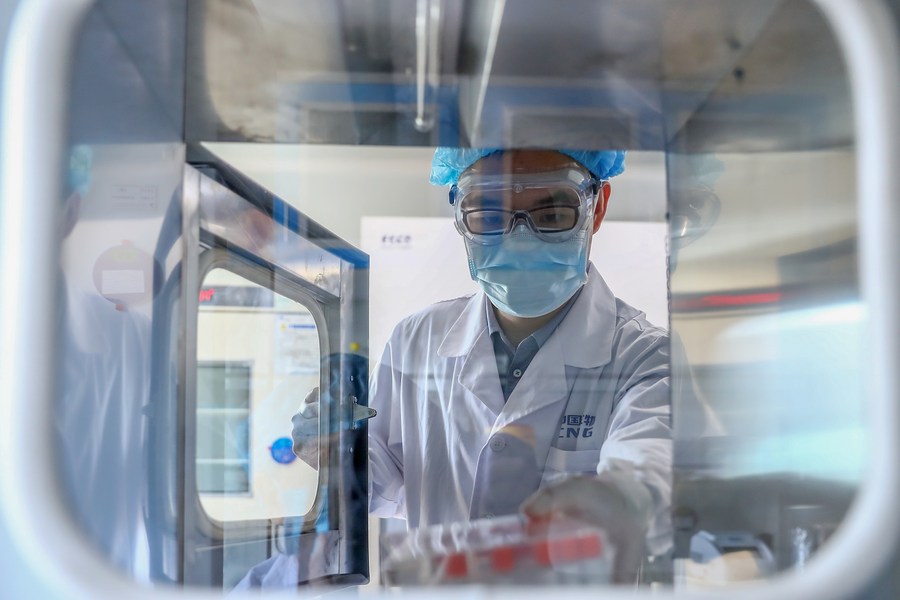 China began its first Phase 3 clinical trials of a recombinant subunit vaccine against COVID-19 on Wednesday, making it the fifth Chinese vaccine candidate to enter late-stage human testing.
The recombinant subunit vaccine is being jointly developed by Anhui Zhifei Longcom Biologic Pharmacy and the Institute of Microbiology, part of the Chinese Academy of Sciences.
This vaccine falls under the category of an adjuvanted recombinant protein subunit (RBD-Dimer) vaccine.
The Phase 3 trials of the vaccine candidate began in Xiangtan county, Hunan province, on Wednesday.
Uzbekistan will also host a trial later this month, followed by Indonesia, Pakistan and Ecuador in the coming months, the vaccine developer said during the launch ceremony.
The trials will enlist 29,000 volunteers age 18 and older for the randomized, double-blind placebo experiment.
On Oct 22, Anhui Zhifei said the vaccine is generally safe and effective based on data from the first two clinical trial phases.
A protein subunit vaccine uses pieces of the protein components of a pathogen to trigger a protective immune response.
It has distinct advantages over live attenuated and inactivated vaccines since it can induce humoral and cell-mediated immune responses, and the risks associated with processing live pathogens for vaccine production are eliminated, according to the Vaccine Book, a medical textbook published by Academic Press.
However, subunit vaccines may be more expensive and may require specific adjuvants to enhance immune response.
The other four Chinese vaccines in Phase 3 clinical trials are: two inactivated vaccines developed by the China National Pharmaceutical Group (Sinopharm); one inactivated vaccine developed by Sinovac Biotech Co; and the adenoviral vector vaccine jointly developed by the Academy of Military Science and Chinese biotech company CanSino.
Please feel free to contact us by sending your questions to question@chinadaily.com.cn or commenting on China Daily app. We will ask experts to answer them.