How did China help migrant workers return to work?
It is important to note that the information provided in this Series is intended for your general knowledge only and is not a substitute for professional medical advice or treatment.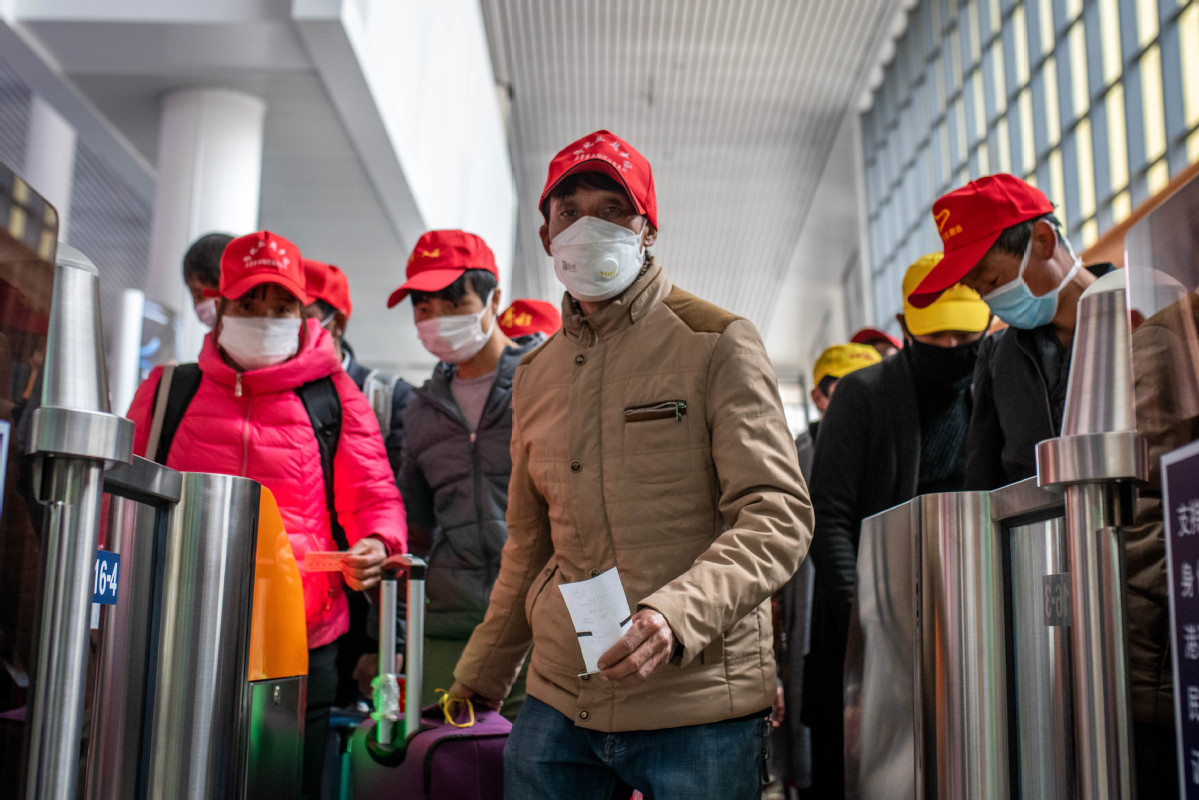 Migrant workers constitute a key part of China's industrial labor force. In 2019, migrant workers totaled 290 million. Among them, 170 million worked outside their hometowns, with 75 million working outside their home provinces. Migrant workers usually return to their jobs in the two weeks following the Spring Festival. This year, the COVID-19 outbreak has hindered their way back to work. As work and production are gradually resumed, China has taken measures to help migrant workers return to work. As of March 20, 100 million rural workers, or 80 percent of those who went home before the Spring Festival, had returned to their jobs.
First, point-to-point transportation services are provided to orderly transfer migrant workers to their workplaces. China's Ministry of Human Resources and Social Security (MHRSS), Ministry of Public Security, Ministry of Transport (MOT), National Health Commission and the China State Railway Group have jointly arranged point-to-point transportation services for employed migrant workers. They may register their travel plans into the MHRSS's rural migrant point-to-point transportation service system via electronic social security card, the mobile application of the State Council, WeChat mini program, Alipay mini program and other online platforms. Local departments in charge of human resources and social security grab information from the system and group migrant workers according to their tentative itinerary and employment status. They then contact workers and employers to schedule chartered point-to-point buses/trains. There is no need of quarantine upon arrival for migrant workers that show no COVID-19 symptoms 14 days before or during the trip. Most provincial governments have established coordination and communication mechanisms for point-to-point transportation services. As of March 18, 160,000 chartered buses, 309 chartered trains, 1,292 chartered train carriages and 514 chartered flights had been organized to transfer more than 4.1 million migrant workers.
Second, prevention measures were enhanced to guarantee migrant workers' safety en route. To ensure separate seating and reduce cross-infection risks, the MOT stipulated that passengers onboard should not exceed half of the approved passenger capacity. Chartered buses/trains must operate non-stop and pickup or drop-off on the way is strictly prohibited. Stations and buses/trains are required to adopt a region-specific, multi-level targeted approach to epidemic prevention and control. Crew members monitor passengers' body temperature from time to time along the trip. Those with abnormal temperature are moved to the observing seating area and sent to the nearest observing station. The MOT has entitled chartered buses to green passage rights, meaning that they enjoy priority and do not need to stop, go under inspection or pay tolls on the road. The MOT has also opened a 24-hour service hotline to solve problems that migrant workers encounter during their trips.
Third, mutual recognition of Health Code is promoted to solve the "last-mile problem" in migrant workers' returning to work. Due to differences in risk levels, response levels and epidemic prevention and control measures, Health Code systems are not unified nationally in China. Therefore, people traveling across provinces may have to register a new Health Code and take one more 14-day quarantine, which increases the cost of migrant workers going back to work. Mutual recognition of Health Code systems among provinces can effectively solve the "last-mile problem". For regions adopting local Health Code or Health Certification systems, they can promote mutual recognition of the systems within or across provinces by connecting themselves with the national Health Information Platform or E-Government Citizen Services Platform. Many provinces have signed memorandums of mutual recognition on Health Code and gradually expanded the coverage, thus facilitating people's traveling across provinces. Currently, the Yangtze River Delta region including Shanghai and the provinces of Zhejiang, Jiangsu and Anhui have taken the lead in promoting universal Health QR code services. Zhejiang province has signed memorandums of mutual recognition with many provinces such as Hainan, Henan, Sichuan and Hunan. The Beijing-Tianjin-Hebei region is also actively promoting mutual recognition of Health Code.
References:
[1] 国务院联防联控机制就农民工返岗复工"点对点"服务保障有关工作举行发布会, March 7, http://www.mot.gov.cn/2020wangshangzhibo/yqfk9/
[2] 交通运输部关于全力做好农民工返岗运输服务保障工作的通知,February 12,http://www.gov.cn/zhengce/zhengceku/2020-02/12/content_5477637.htm
[3] 如何为农民工返岗复工提供服务保障?, March 8, http://www.gov.cn/xinwen/2020-03/08/content_5488566.htm
[4] 企业复工率员工到岗率稳步提升 八成返乡农民工已外出务工, March 20, http://www.gov.cn/xinwen/2020-03/20/content_5493403.htm
[5] 健康码何时实现全国互通互认, March 30, http://www.xinhuanet.com/politics/2020-03/30/c_1125785795.htm
Authors: Zhu Qingyi and Yu Lu, Center for International Knowledge on Development
Please feel free to contact us by sending your questions to question@chinadaily.com.cn or commenting on China Daily app. We will ask experts to answer them.