Scientists to seek more cooperation on virus data sharing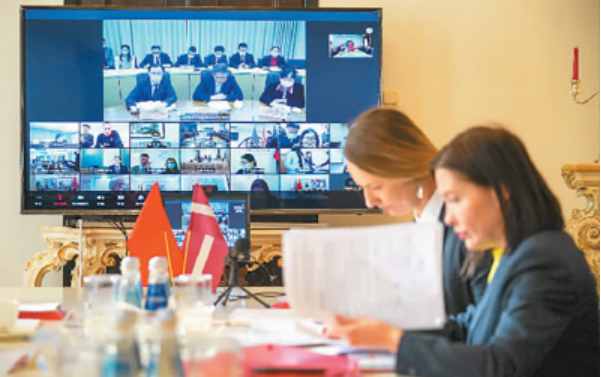 Chinese scientists have shared scientific data related to the novel coronavirus with the world and will seek more international cooperation, said Ma Juncai, director of the World Data Center for Microorganisms, which is based in Beijing.
Ma, who is also director of the National Microbiological Data Center at the Institute of Microbiology, a subsidiary of the Chinese Academy of Sciences, said that with the epidemic now entering a mitigation phase in China, they plan to hold seminars to communicate with international institutions and scientists to listen to their suggestions and understand their needs for data.
The institute is one of the Chinese scientific facilities that has published and updated novel coronavirus data in a timely manner since January.
Together with the Chinese Center for Disease Control and Prevention, it launched the Novel Coronavirus National Science and Technology Resource Service System on Jan 24, which unveiled data and the first microscopic pictures of a novel coronavirus strain extracted from patients.
"Information about the strain is very important. Only when the strain is isolated can development and research on vaccines and antiviral drugs be effectively carried out," Ma said, adding that as novel coronavirus pneumonia continues to affect the world, more similar information will be released.
"Therefore, we would like to develop a joint platform to put these data in a one-stop library for everyone to use," he said.
Ma said the resource service system mainly collects data garnered from independent domestic research, such as information about the strains and structure of virus proteins. It is open to all users and free to download.
From Jan 24 to April 2, the website received about 8 million visits from 190,000 users in 139 countries and regions, with most visitors coming from the United States, Japan and Canada.
Qi Jianxun, a researcher at the Institute of Microbiology, uploaded his findings on the structure of a key protein of the novel coronavirus, which is important to the improvement of the serology test-one of the major testing methods for novel coronavirus-to the Worldwide Protein Data Bank on Feb 19 and the service system on Feb 20.
The service system released the findings the same day they were uploaded, while the data bank released them on March 18. The information has been downloaded more than 7,000 times, and the related paper was published in Cell, a top, peer-reviewed scientific journal focusing on life sciences, on Thursday.
"I submitted my data to the protein data bank and the data center at almost the same time. I didn't expect that the center would release my data and share it with world researchers in just six hours," Qi said, adding that this could help scientists crack the virus' pathogenic mechanism in time and lay the foundation for antibody and vaccine development.
Ma said, "The timely release of data shows our openness and transparency regarding information sharing, and the large number of downloads proves the data are useful."
In order to better serve world researchers, the institute released on Feb 18 the Global Coronavirus Data Sharing and Analysis System, which pools 3,198 genomes of coronavirus-including the one responsible for novel coronavirus pneumonia-33,202 sequences and 30,981 strains. It also reports where the data was collected.
In addition, the system provides tools to analyze and compare different coronaviruses, which can help researchers better trace the virus' mutation.
The Chinese Academy of Sciences also launched on March 31 the COVID-19 Pneumonia Scientific Literature Sharing Platform, which has collected 68 papers in Chinese and 62 papers in English written by Chinese researchers and will provide an important reference for coronavirus research.
"During the epidemic, we mainly published and shared China's microbiological scientific data via websites," said Qian Wei, head of the institute. "For upcoming challenges, we will cooperate with international organizations, microbiological research institutions and scientists to develop a big data platform to provide support for world health."
Please feel free to contact us by sending your questions to question@chinadaily.com.cn or commenting on China Daily app. We will ask experts to answer them.