Recovery rate for patients over 80 close to 70 percent
To play the audio normally, please use an IE9 or higher edition browser.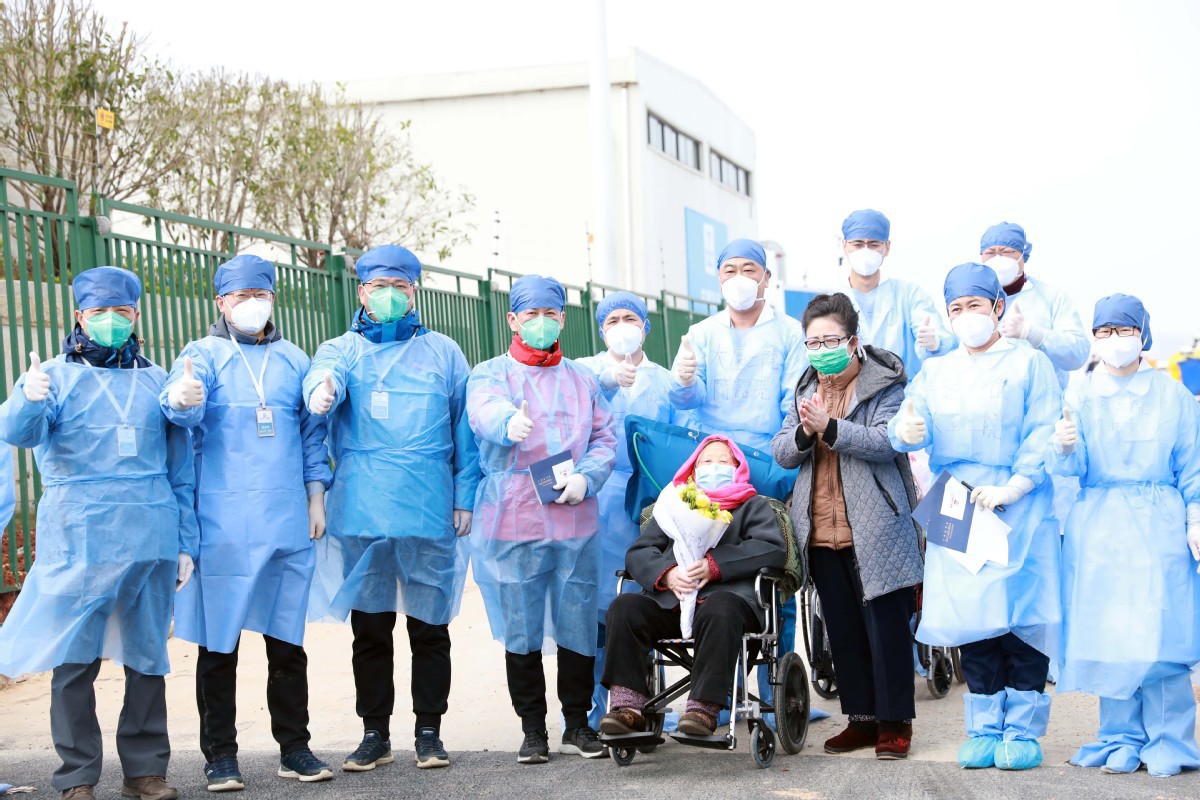 Nearly 70 percent of the more than 3,000 novel coronavirus pneumonia patients in Wuhan aged over 80 have recovered, National Health Commission official Jiao Yahui said on Saturday.
Jiao said the overall cure rate for the disease in Wuhan, the Chinese city hit hardest by the outbreak, was 94 percent, with the almost 70 percent cure rate for patients over 80 years old-40 percent of whom had been critically ill-"a hard-won achievement".
Wuhan also had eight patients who were over 100 years old, with the eldest being 108. Seven had recovered and been discharged from hospitals, she said.
By Friday, Wuhan had reported 50,008 confirmed novel coronavirus pneumonia cases, with 47,112 cured and discharged from hospitals.
The number of severely and critically ill patients being treated at hospitals in the city dropped to 94 on Friday.
Jiao said they were generally older and had underlying conditions. They had also been hospitalized for a relatively long time and had weak immunity, so they were difficult to treat and needed comprehensive therapies to support their organs while maintaining nutrition.
"The key to medical treatment is to improve the cure rate and reduce the fatality rate," she said. "The elderly patients who were critically ill often had many underlying diseases, so it was very difficult to treat them."
Jiao said 90 percent of the elderly patients had preexisting diseases, and some severely ill patients were hospitalized for 50 to 60 days.
Du Bin, director of the intensive medicine department at Peking Union Medical College Hospital, said elderly patients generally had more cardiovascular and lung diseases than younger patients.
"Even without these diseases, the functions of their organs are declining gradually," he said. "Therefore, in addition to treating the cause of their illness, it is also very important to treat and support their organs."
Liu Yun, vice-president of Jiangsu Provincial People's Hospital, said many elderly patients had been treated successfully, but it had been difficult work. She said her medical teams had used various medical practices, including multidisciplinary diagnosis and treatment, psychological counseling, basic care and rehabilitation, during the treatment process.
Jiao said the input of medical resources, including manpower, materials and financial resources, to treat patients over 80 was very high, as was the investment in nursing, since some patients were paralyzed and some had Alzheimer's disease.
"However, we treated all patients at all costs because the value of life is the most precious, regardless of age, race or gender. In the eyes of doctors, we cannot give up any life," she said, adding that all treatment was provided free of charge.
Please feel free to contact us by sending your questions to question@chinadaily.com.cn or commenting on China Daily app. We will ask experts to answer them.