A guide for nursing homes on COVID-19 prevention and control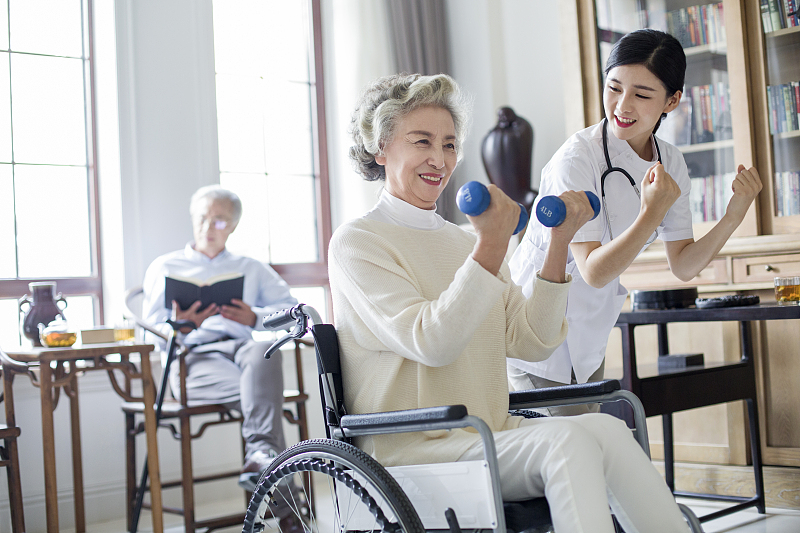 Editor's note: As elderly people are more vulnerable to the coronavirus, it is essential that nursing homes are properly prepared for prevention and control of the COVID-19 disease. Here are some precautions and health tips.
1. Keep indoor areas properly ventilated. Open windows for ventilation but also be sure to keep warm.
2. Focus on cleaning first, with preventative disinfection as a supporting approach only, and avoid over-disinfection.
3. Hand-washing-free disinfectants, hand sanitizers, tissues and other sanitation products should be put in rest rooms.
4. Staff members should check their own health status every day, and go to hospital as soon as possible if they have a fever and any other symptoms of discomfort.
5. Staff members should wear masks when serving the elderly. They should also wash their hands before touching service objects, while they perform care services, after touching domestic waste items and after doing any cleaning.
6. Visiting should be prohibited unless it is essential. Visitors should have their temperature checked, and shouldn't be admitted if they have a fever, a cough or any other symptoms. Visitors and the elderly who are being visited should wear masks.
7. Prepare a temporary isolation room for elderly people with suspicious symptoms. The isolation room should be located in a downwind and well-ventilated space with fewer people passing through and a private bathroom.
8. Strengthen health status checks for the elderly. Elderly people who experience a fever, cough or any other symptoms should wear masks, be moved to a temporary isolation room, or be sent to the nearest hospital by a special car or by dialing the emergency number of 120. If an elderly person is a suspected or confirmed coronavirus case, personnel screening, isolation and observation, and disinfection must be implemented according to the guidance and requirements of health authorities.
Sources: Beijing Municipal Health Commission, Beijing Center for Disease Prevention and Control, Beijing Health Education Institute
Please feel free to contact us by sending your questions to question@chinadaily.com.cn or commenting on China Daily app. We will ask experts to answer them.